You know it's going to be a merry Christmas when your cake has wine in it. We got in touch with the young Master Baker to whip up a delicious dessert for us. This one his creation. . Presenting Merlot poached pear upside down cake. Come along and Bake With Shivesh.
INGREDIENTS
1 cup Big Banyan Merlot wine
1 cup water
3/4 cup granulated white sugar
1/2 cup fresh orange juice
2 orange peel
1 cinnamon stick
3 large pears, pealed and sliced
For the cake
Butter, to line the tin
5-6 tablespoons lightly packed brown sugar
2 cups all-purpose flour
4 tea-spoons baking powder
3/4 cup granulated sugar
1/2 cup vegetable oil
2 eggs
3/4 cup milk
PROCEDURE
In a milk-pan, combine wine, water, sugar, orange juice with the cinnamon stick and orange peel and bring it to a boil over medium heat.
Reduce the heat to low and add sliced pears and let it simmer until tender. This may take about 15-20 minutes.
Once the pears are tender, take them out.
Pre-heat your oven to 180C. Grease the pan with butter and sprinkle the brown sugar evenly on the base.
Arrange the fruit in an even layer on top of the sugar.
In a medium bowl, whisk together flour and baking powder.
In a large bowl, using an electric mixer, beat oil and sugar.
With mixer on low, beat in eggs one at a time. Add the flour mixture to the wet ingredients alternating with milk, and starting and ending with flour mixture. Beat until smooth.
Carefully pour the batter over the arranged fruit and bake for 30-40 minutes until the top is golden-brown. Let the cake rest in the tin for 10-15 minutes before taking it out.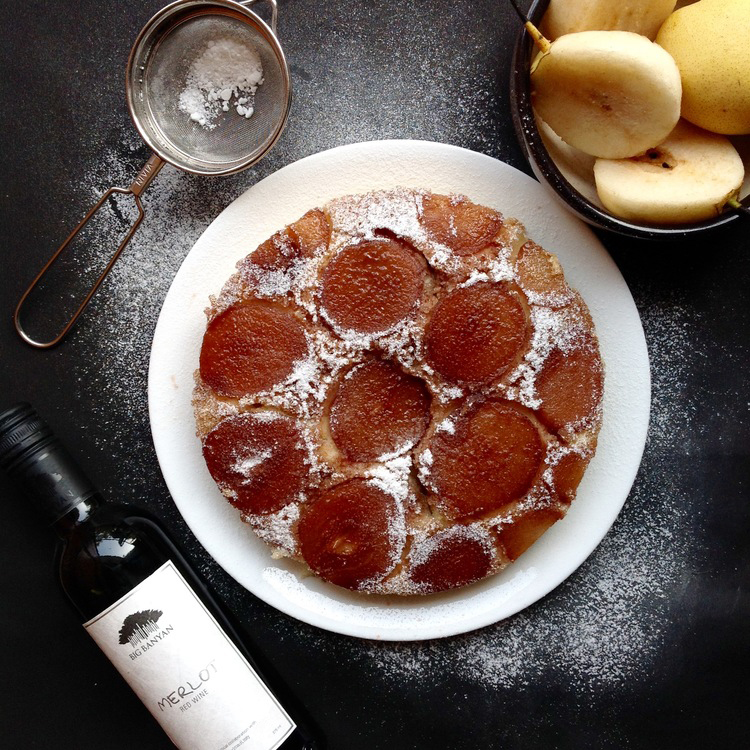 Find more yummy recipes from Shivesh here.
If you are looking for the perfect wine for your cake, try our selection this season.