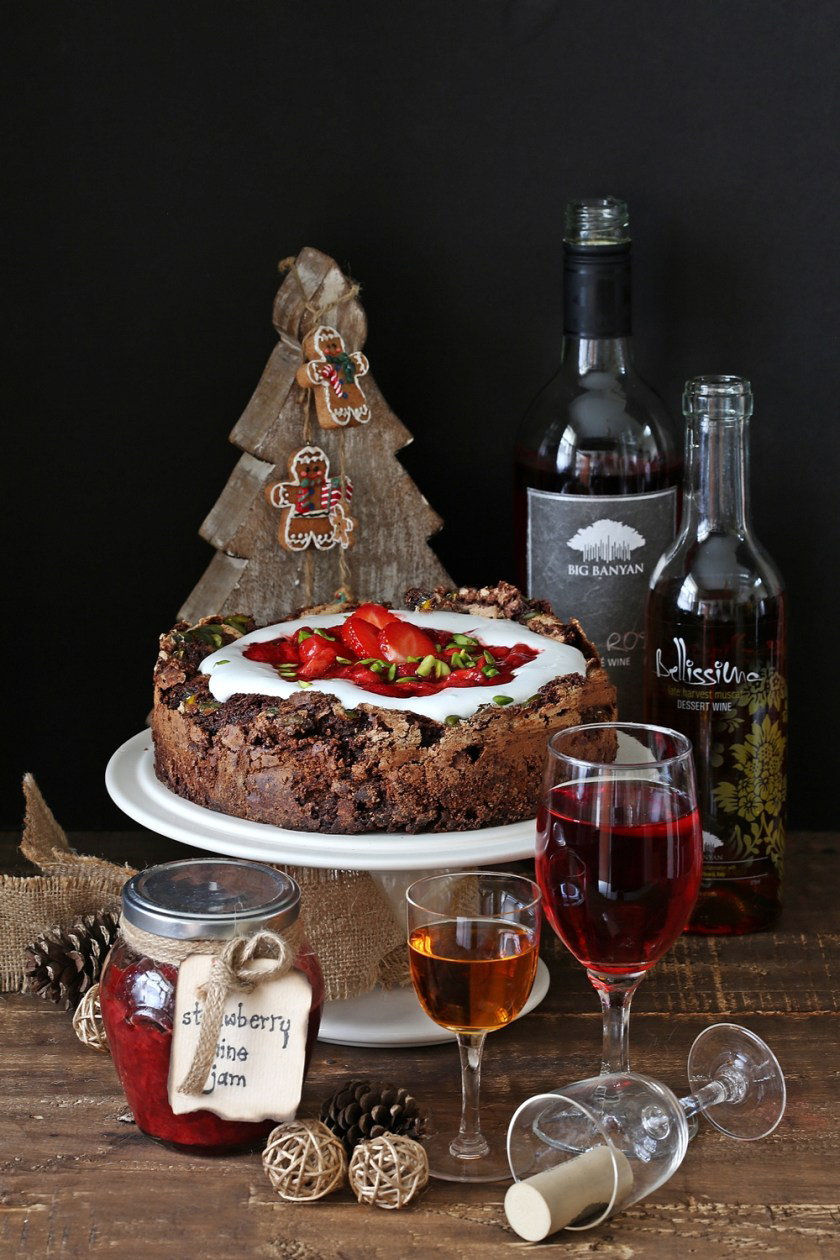 "Cake is happiness! If you know the way of the cake, you know the way of happiness! If you have a cake in front of you, you should not look any further for joy!"
C. JoyBell C
Chocolate Berry Wine Fallen Gateau … because when a smooth, indulgent dessert wine arrives, you have to do something special with it. These were thoughts that ran through my head when the well packaged bottles ofBellissima and Rosa Rossa arrived from Big Banyan.With Christmas around the corner, my flavours and colours were pretty much sorted out. I knew what I wanted to bake.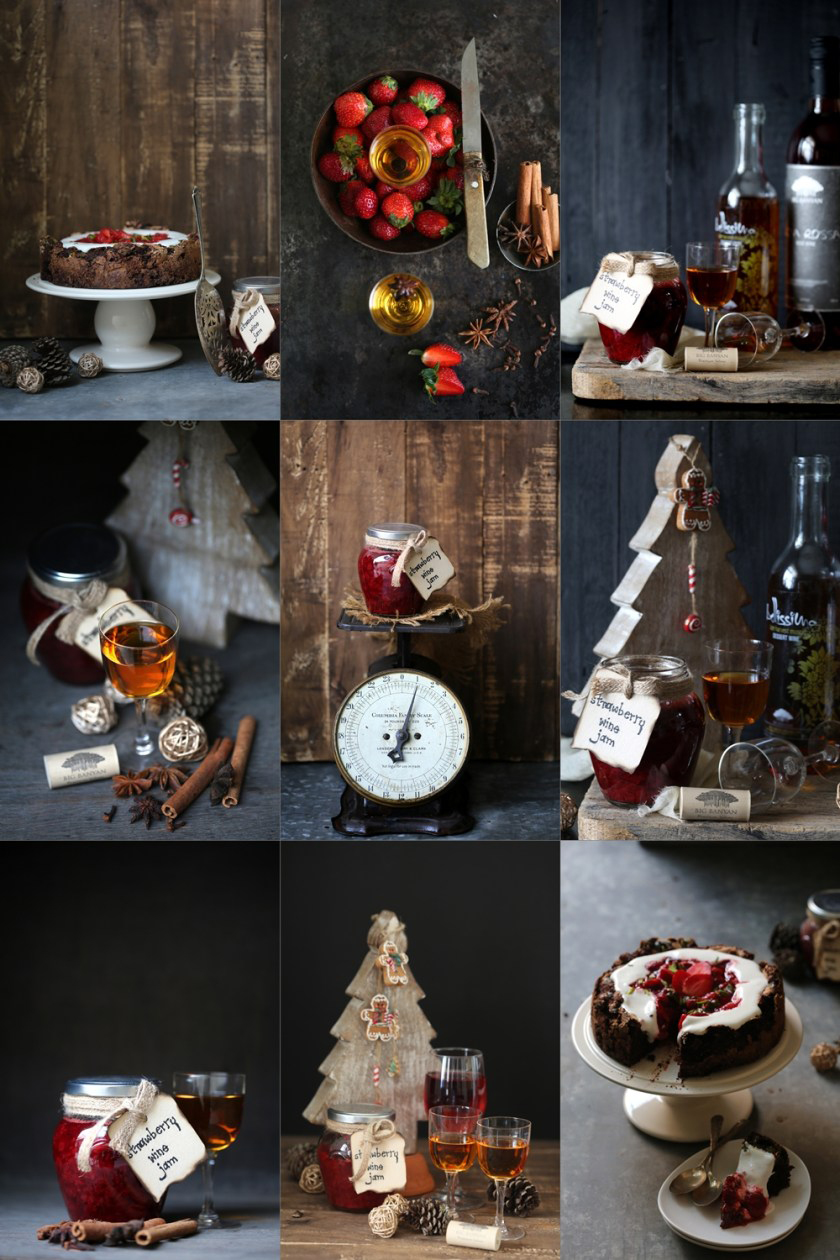 It was going to be a flourless fallen gateau, it was definitely going to have dessert wine, and the top would have strawberries. Well it all kind into place. I had bought a ton of strawberries a few and planned to make a preserve. Then along came dessert wine. Why not a strawberry wine jam? With winter here, spices are part and parcel of almost everything I do, so I settled for a spicy Strawberry Wine Jam.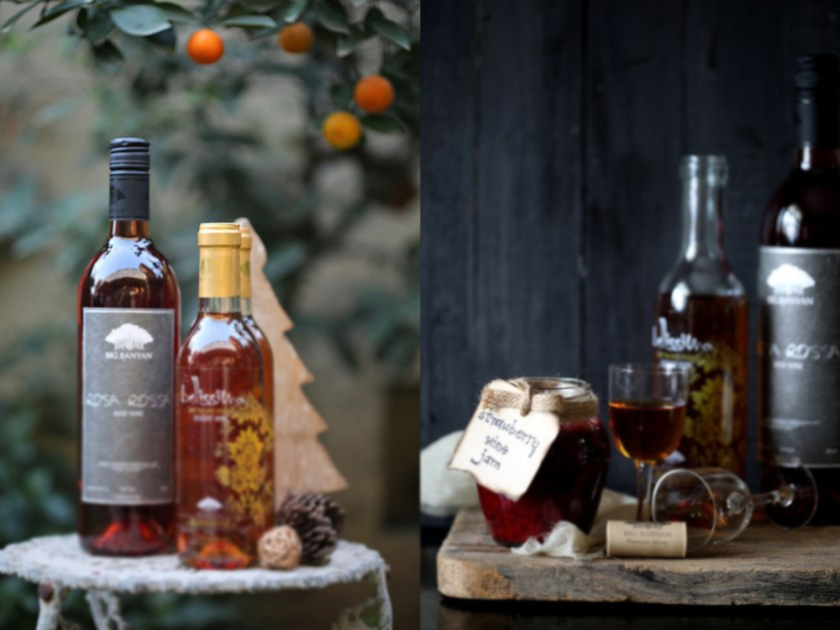 It came out deliciously wicked. It's great on toast and in lindzer cookies, fabulous to make dark chooclate truffles with, and makes for a much appreciated holiday gift as well. Strawberry jam is the easiest to make. You basically just cook it down to a nice chunky consistency, discard the whole spices, and bottle the jam. Dollop it over waffles, ice cream, onto parfaits, over breakfast oats … you will love it!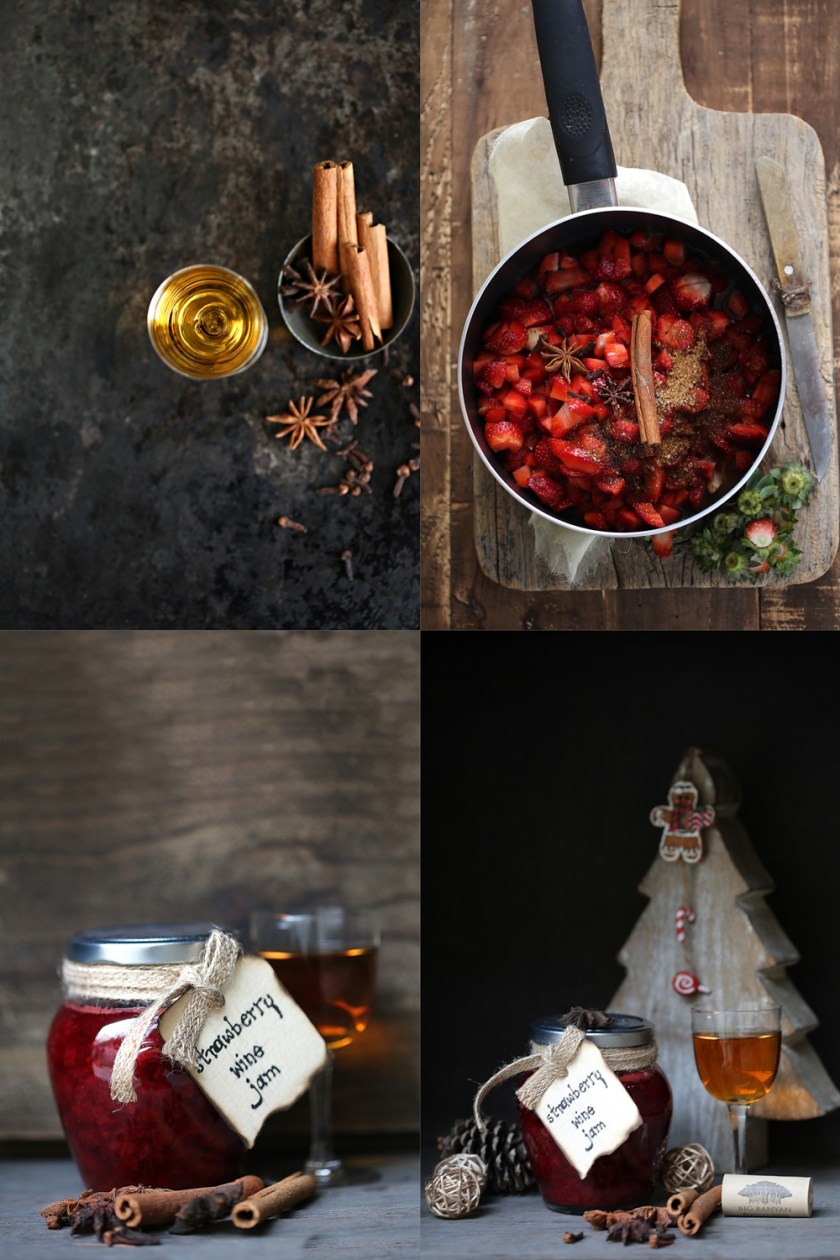 Jam done. That was so easy.

When the jar of wine jam says time for cake, it's time to bake!! This is one of the simplest gateaus you can bake. Don't get misled by the long list of ingredients. It comes together really fast and is a fuss free, chocolaty, fudgy gluten free cake. The ingredients should all be good quality because that's what makes the cake special. Dessert wine and spiced strawberry wine jam added oodles of oomph to it. Subtle undertones of sweet strawberry and a hint of wine make this special. It's called afallen gateau because it rises quite normally while baking, then collapses most dramatically.
I love the crater the so called collapse causes because that becomes 'ground' for filling. An ugly duckling, rustic cake, moorish to boot, gets a snazzy dressing up. Christmas is here so it's red, white and green. Chocolate pairs really beautifully with wine and fruit, so this was going to be a winning combination. The almond cream added further indulgence. Then came the ruby red, bursting with flavour, spicy strawberry wine jam topping that was literally the icing on the cake.
Did I forget to mention the chewy meringue top studded with pistachios?Yes, you can taste that as well as you savour every rich bite of this chocolaty wine goodness. It might seem tempting to skip the step, but I urge you not to. It's small things like this that add to the final delight. We loved every little detail of this cake so much, I am going to bake it again soon. This is my new favourite cake that was created all thanks to some fabulous wine from Big Banyan.
I have to give the wine full marks. I'd heard the buzz about the wine here and there, and it more than lived up to my our expectations. I might not be a connoisseur, but yes, can tell a good wine. The dessert wine glowed a beautiful gold, while the Rosé blushed a beautiful cherry pink. I am quite partial to sweet dessert wines. The Bellissima was my first love with sensual smooth hints of apricot, pears, walnuts and raisins; so exotic in my opinion. Like liquid gold.
The Rosé got the better halves vote. With the acidity just right, whiffs of freshness and smooth flavour, this wine was good! I couldn't stop clicking the wine. It added great festive cheer to my food and frame. As I have learnt, if the ingredients are good, you love the process, and then turn out amazing goodness. This is just what happened.
Do serve some wine with the Chocolate Berry Wine Fallen Gateau. It completes the experience!
To know more about cooking, food, culture, traditions and such recipes head to Passionate About Baking.