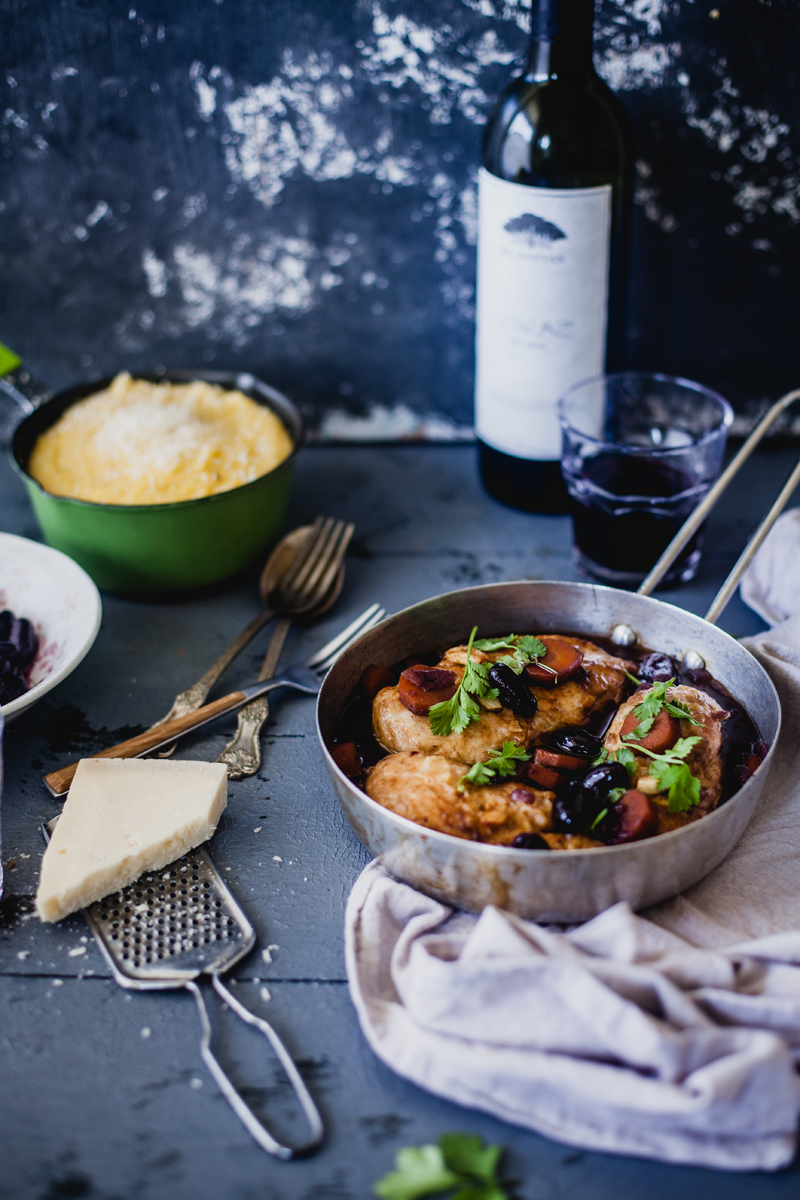 Christmas feast should be fun, fuss-free and unintimidating. Most people are very good at planning in advance their dinner table look absolutely fabulous. Then, there are are so busy with their day-to-day chores that planning a feast in advance always takes the back seat. But that shouldn't stop one from throwing a party, cause with a little bit of free time and multi-tasking, anyone can create several easy and quick dishes, even at the very last minute. . Kankana shows us one such dish.
So, if you were looking for a quick and easy main course idea, this chicken meal would fit the bill perfectly. Chicken breast dunked in a caramelized onion, grapes and red wine sauce served with creamy polenta makes for a great party treat.
Ingredients:
3 chicken breasts
2 red onions, thinly sliced
1 cup all purpose flour
2 carrots, sliced
5 cloves of garlic
2 cups of black/red grapes
3 tablespoons butter
1 teaspoon chili flakes
1 teaspoon oregano
1 teaspoon paprika
2 cups chicken broth
¼ cup red wine
1 cup polenta
4 cups water
salt
pepper
oil
parmesan cheese
cilantro/parsley for garnish
Direction:
Score the chicken breast and marinate it with a couple of garlic cloves (grated), salt, pepper and paprika. You could pan fry the chicken pieces right away but for best flavor, allow it to rest for a few hours or overnight.
Once you are ready to prepare the dish, heat a pan large enough to hold all the three chicken breasts in a single layer. Add 1 tablespoon of butter. Now, rub the breast pieces in all-purpose flour and layer it in the pan. Allow the chicken breast to brown on both the sides. It should take about 3 minutes on each side. Take it off the pan and keep aside. In the same pan, add 2 tablespoons of butter and drop the onion slices along with more garlic cloves. Sprinkle with salt and cook in a low heat for about 20 minutes, tossing it every now and then. Once it's caramelized, drop the carrots and add chicken broth.
Once the carrots are fork tender, add wine, grapes, chili flakes and allow it to reduce for about 10 minutes. Check for salt and add any, if required.
Finally, layer the pan fried chicken breasts, cover the pan and allow it to simmer for about 15 minutes or until the chicken is cooked through.
Garnish with few fresh cilantro leaves and serve warm.
To prepare the polenta, whisk polenta with water and bring it to a boil. Sprinkle salt, pepper and oregano. Then, simmer for about 20 minutes, whisking every now and then until the polenta is cooked through. If it gets too thick, add more water or milk to loosen it.
Once the polenta is cooked though, add 1 tablespoon of butter, parmesan cheese and mix it together.
Serve warm.