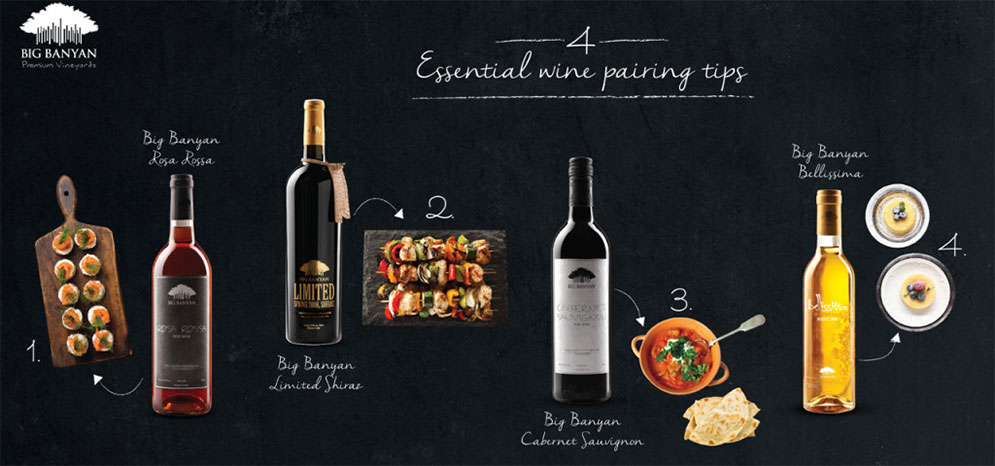 Vanilla ice cream and hot chocolate fudge. cake. . Some combinations are so classic! You instantly, instinctively know what to pair them with. But wine seems to be something of a mystery. To demystify this seemingly complex process, we've drawn up 4 basic wine and food pairing rules.
Pairing rule #1: The appetisers
What you would serve at the start of a meal? Light nibbles of course. It could be cheese, it could be a little baked starter like canapés or a stuffed mini filo pastry. Due to the cheesy nature of these dishes, they tend to have flavours of saltiness and sourness. What you need to cut through these is a wine with acidity – like the Big Banyan Rosa Rossa. It is light bodied and sails down pretty smooth. Set the mood for your dinner, with a wine like this.
Pairing rule #2: The mains
This is usually your piece de resistance. The dish that would elicit oohs-and-aahs from your guests! You'd want a wine that would compliment the grace of your main course. Pick a Big Banyan Limited Shiraz. Its deep flavours enhance the flavours of your food. And it pairs well with mains like risotto, grilled chicken with young vegetables on the side, or even fish like John Dory.
Pairing rule #3: The Indian mains
Who doesn't love a good ol' spicy Indian curry and butter naan for mains! But many believe that wine and Indian don't work well together. We say – they are so mistaken! Pick a Cabernet Sauvignon. The deep, intense personality of this wine is just what you need for food that is big on flavours.
Pairing rule #4: Desserts
This one's rather simple. Simply choose a dessert wine – like the Big Banyan Bellissima. But there's one thing you need to bear in mind – make sure your dessert is light and airy, like a soufflé. Big Banyan Bellissima is divinely sweet, but as dessert wines tend to be, it is on a slightly heavier side. Pairing it with light, happy desserts will end the meal on a high note.