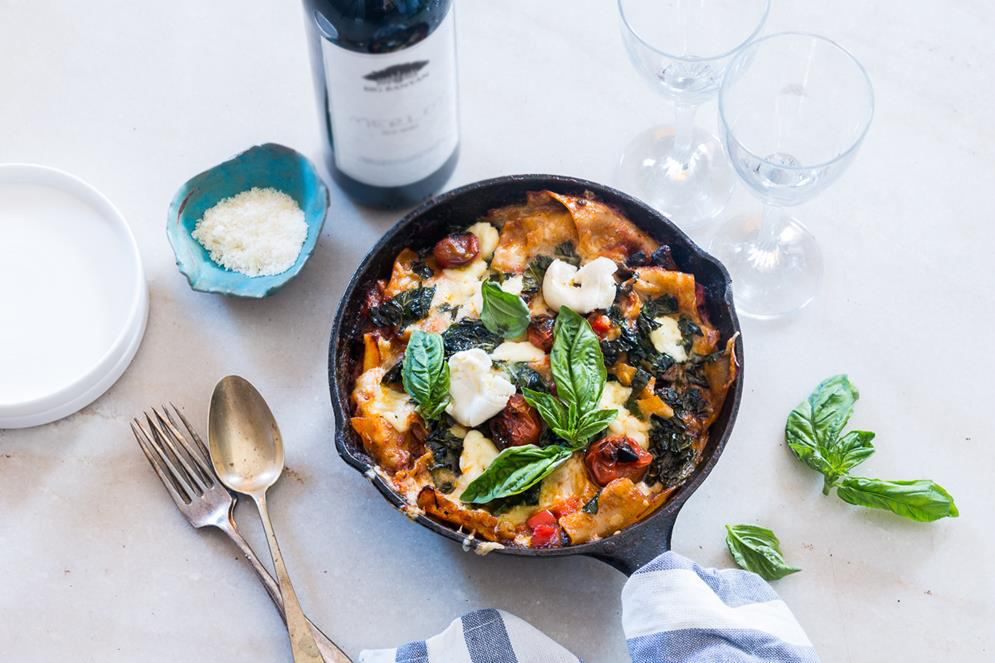 After a long weekend of festivities, it's really tough to get back to our daily routine. So we thought we'd share this recipe to drive away your post-celebration blues. Blogger Richa Gupta continues with her 30-min meal series. And in this one she does a 30-minute vegetarian lasagna skillet.
Over to her:
We are big lasagna lovers, but let's be honest, we don't always have the time to prep a lasagna casserole on weekdays. Prepping the veggies, cooking the sauce, layering the lasagna and then baking can easily take about an hour or so, which given how hungry we get after coming back home from work, is time we never seem to have. Enter this 30-minute vegetarian lasagna skillet, which is our favourite way to make lasagna now. So much so that we rarely go the whole hog anymore!
This recipe is seriously a dump and run kind of recipe. I've timed myself while making this one and each time, I'm done in under 30 minutes, including prepping the veggies if you have super fast chopping skills like me 😉 If you don't, just add another five minutes to this recipe or buy pre-cut veggies to make things simpler.
You are absolutely going to love this stringy cheese, loaded veggie skillet full of lasagna goodness and I promise it'll be the best thing you ever made for yourself. With so many veggies, you will never even feel guilty about the carbs! Denver's a through and through meat lover, but even he gets excited about this veggie lasagna and is always ready to help with the prep if I say we are making this.
I also love the fact that I can sneak in a little wine while cooking this, which really adds to the flavours of this lasagna and gives the sauce more depth. Red wine works best, and if you can get your hands on a bottle of Big Banyan's Merlot you've got yourself a winner. Add about one fourth cup to the sauce while cooking, and see how the flavours become more intense.
We usually open the bottle of Merlot while making dinner, add a little to the food and serve us a glass while eating. I love the Merlot with this lasagna because the flavours marry so well. The merlot has a hint of plums, blackberries and pepper, all of which pair well with the creamy red sauce of this lasagna. This is a wine which really goes with anything except food which is too spicy. We've tried it with a variety of pastas, chicken and even red meats and it's subtle flavours always work.
30 minute Vegetarian Lasagna Skillet
Prep Time: 5-10 mins
Cook Time: 30 mins
Serves 2-3
Ingredients:
1 tablespoon Olive Oil
1 tablespoon Butter
5-6 Garlic Cloves, finely chopped
200 grams Button Mushrooms, roughly chopped
1 Red Bell Pepper, roughly chopped
2 Carrots, roughly chopped
1 jar of your favourite Pasta Sauce
1/2 cup Big Banyan's Merlot
1/2 cup Milk
1 teaspoon dried Oregano
1 teaspoon Chili Flakes
8-10 Lasagna Sheets, broken into pieces
1/2 cup loosely packed fresh Basil leaves
1/2 cup grated Mozzarella
Salt to taste
Freshly grated Parmesan for topping
1. Heat olive oil and butter in a 12 inch skillet or frying pan and add garlic. Sauté for a minute being careful not to burn the garlic and add mushrooms, bell peppers and carrots.
2. Cook the vegetables on medium high heat for 2-3 minutes and add the pasta sauce and merlot. Bring this to a quick boil and reduce the flame to a simmer. Simmer for a minute or two and add oregano, chili flakes, milk and salt.
3. Mix this together and add the broken lasagna sheet to the pan, mixing them as you go. Reduce the flame to low and cover and cook for 15 minutes.
4. Mix in the basil leaves and top with mozzarella. Cover again for another 2-3 minutes or till the cheese melts.
5. Top with freshly grated Parmesan and serve with a glass of Big Banyan's Merlot.