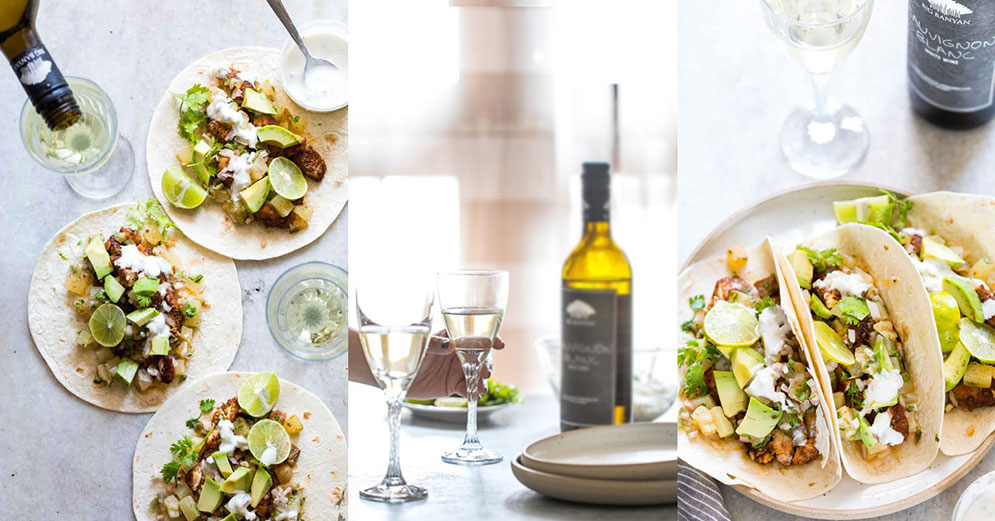 Tacos are the thing! They make for a quick meal, and are so versatile. And what makes them a particular favourite with us, is that they pair well with wines. In this blog, we explore yet another recipe. Richa Gupta of My Food Story created this amazing one for us.
Over to her now.
It's time for spicy tilapia fish tacos with pineapple salsa that are fresh/easy/gorgeous and something that your taste buds are going to thank you for!
We live for days like these when I'm whipping something with really simpleflavors that's so satisfying that it becomes a regular on the dinner table. I think, of all the tacos in the world, fish tacos are the best tacos. Soft tortilla wraps filled with flaky, juicy fish that's been tossed in spices and topped with a sweet and spicy pineapple salsa, avocado and squirts of lime juice. Can you tell that I'm getting a little hungry here?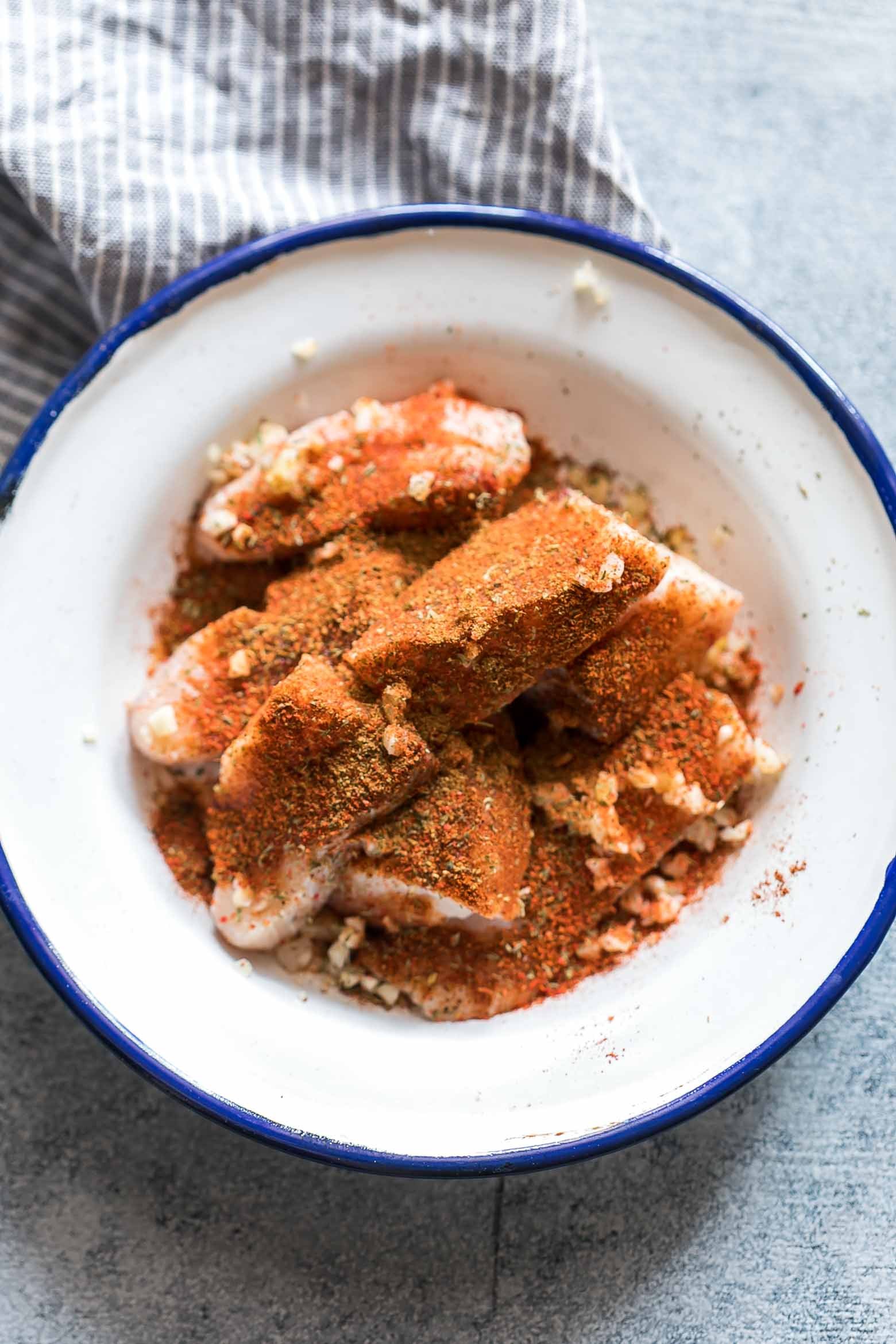 I'm serving these fish tacos with my favorite glass of Big Banyan's Sauvignon Blanc. Yes, I'm classy like that and you won't believe how good they taste together! I haven't always been a white wine fan, but I'm definitely ready to change my mind. The first time you pour a glass of Sauvignon Blanc, you catch a whiff of green bell peppers and gooseberries, and then there are subtle flavours of pineapple and peaches. The acidity in the wine and its crisp lightness make it an easy pairing with these fish tacos. It has a delicate sour flavor with a tinge of citrus and that creates the perfect balance for the sweet and savoury flavours in these fish tacos. The Sauvignon Blanc is also an easy brunch wine, as are these tilapia fish tacos with pineapple salsa. They are summery, light and healthy and I can never resist going for seconds.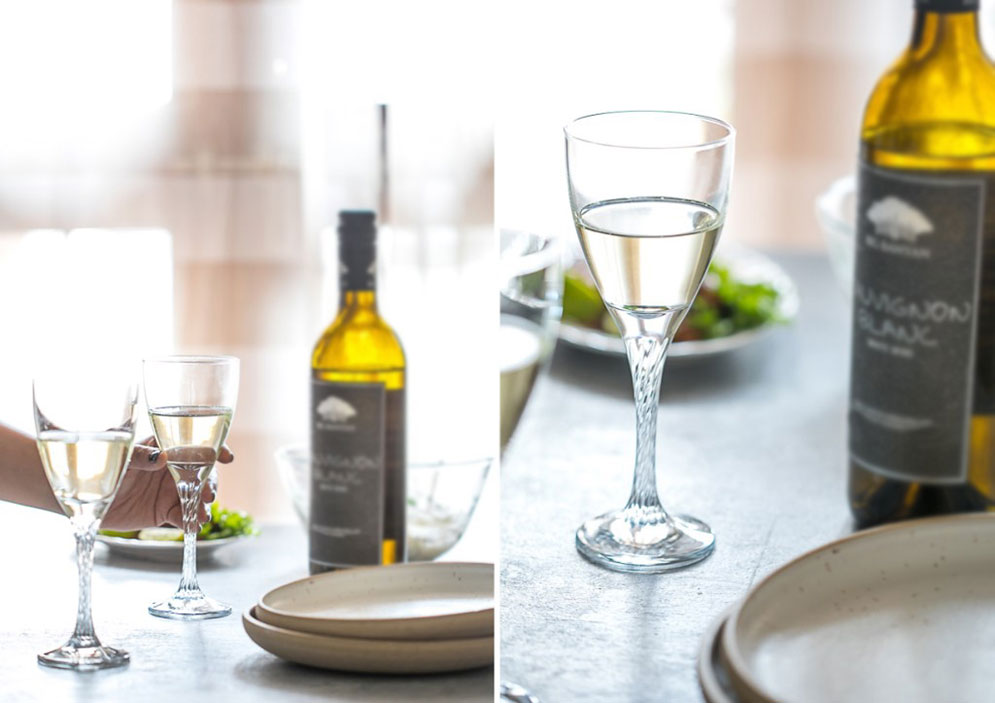 Let's just circle back to these tilapia fish tacos with pineapple salsa for a bit. I actually made them with cabbage slaw first, because fish tacos with cabbage slaw is such a classic combination and they definitely taste really good. But you know that feeling, that niggling little voice telling you to try something else. And it wouldn't go away. So, I finally gave in and tossed together a quick pineapple salsa – pineapple, jalapenos, cumin, chili powder, lime juice, onions and lots of coriander. Hello perfect fish tacos with pineapple salsa!
You also have to try my garlic yogurt sauce with these, because just fish tacos with pineapple salsa can get a little bit dry, and I think that garlic yogurt sauce pulls it all together.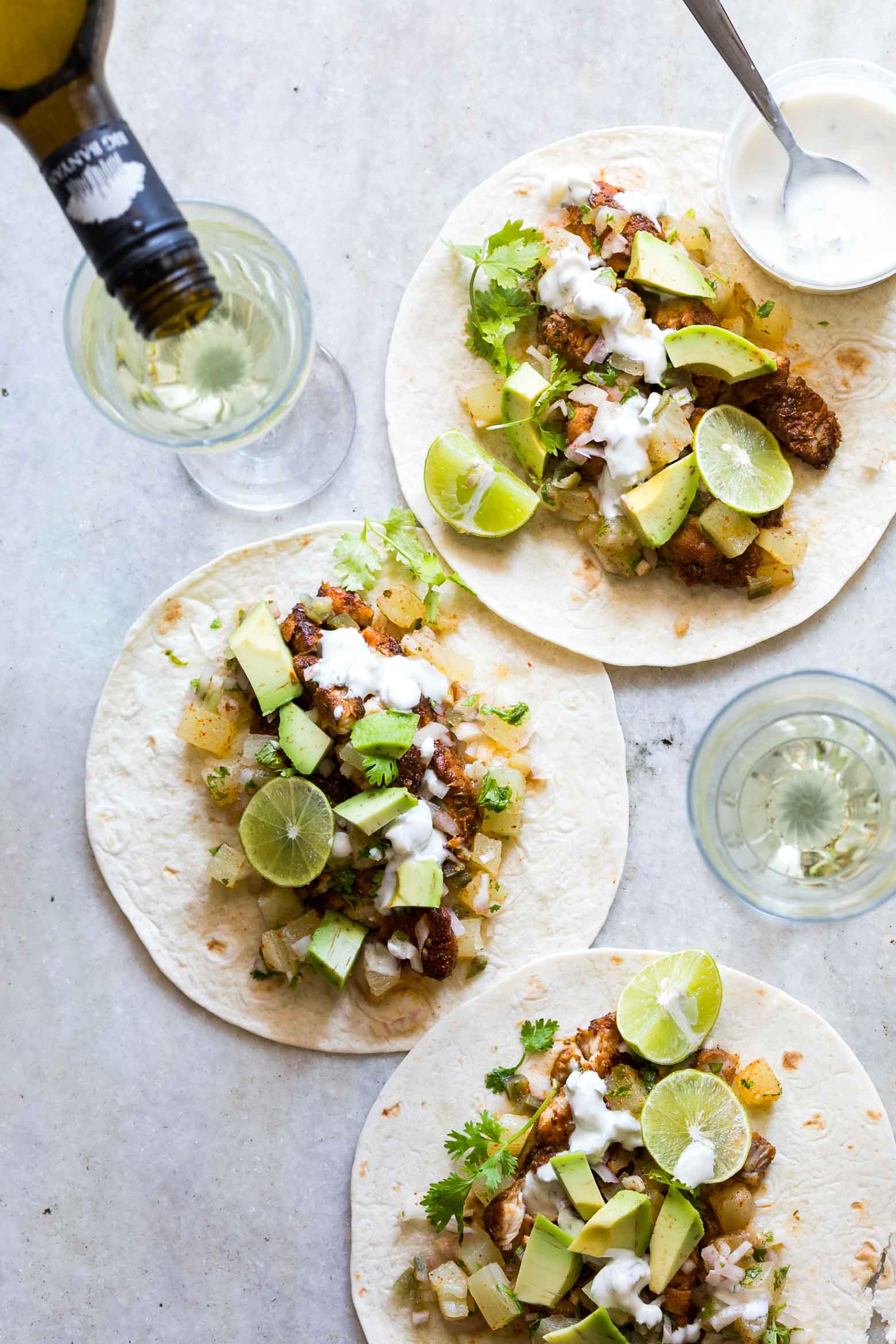 These tacos also qualify for dinner in 30 minutes, which makes them even more awesome guys! Because when you have a 30-minute dinner option, a chilled bottle of Sauvignon Blanc and these fun tilapia fish tacos with pineapple salsa, I'm also thinking date night with the beau.
Maybe give him fish-cooking duty while you and your glass of wine start the prep on the salsa. And then you carry everything outdoors or if you are like us, to the balcony, put your feet up, assemble your tacos, pour another glass of wine, and just like that, you have a weeknight date night.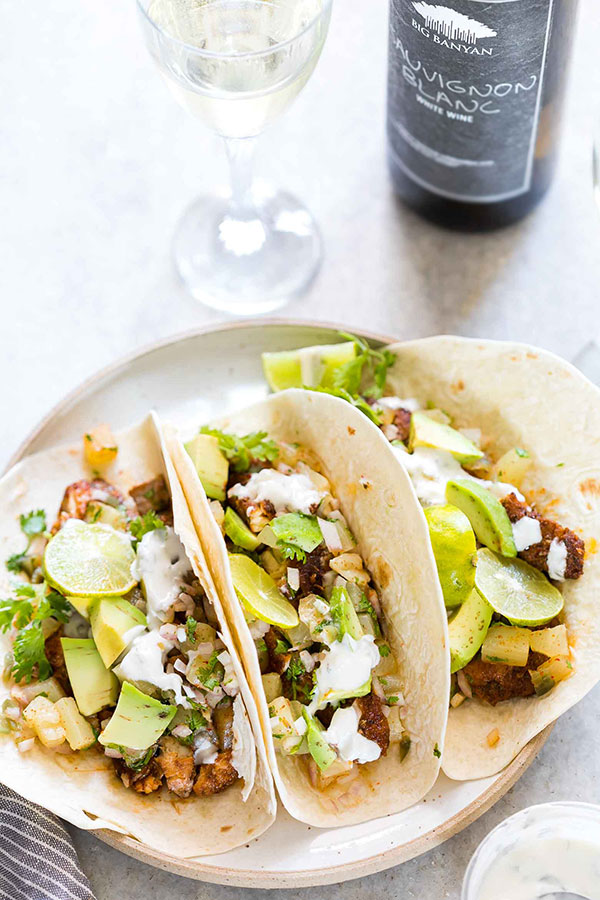 You'll need
For the Tilapia (fish)
500 grams boneless Tilapia, cleaned
1 teaspoon Olive Oil
1 teaspoon minced Garlic
1 tablespoon Paprika powder
1 teaspoon Chilli Powder (use Ancho Chilli if you have)
1 teaspoon Cumin Powder
1/2 teaspoon dry Oregano
1/2 teaspoon dry Parsley
Juice of 1 lime
Salt to taste
For the Pineapple Salsa
2 cups chopped Pineapple
1 Jalapeno, finely chopped
1 teaspoon Cumin Powder
1/2 teaspoon Paprika Powder
3/4 cup chopped Onions
1/4 cup chopped Cilantro (Coriander)
Juice of 2 limes
Salt to taste
Garlic Yogurt Sauce
3/4 cup Greek Yogurt
1/4 cup Sour Cream
3 Garlic Cloves, finely minced
1 Jalapeno, finely minced
1 teaspoon chopped Cilantro (Coriander)
Salt to taste
For the tacos
6 Corn or Flour Tortillas
2 tablespoons Oil
chopped ripe Avocados
Cilantro (or Coriander)
How to make it
Cut the fish into 2 inch pieces and marinate the fish in all the ingredients mentioned under Tilapia and set aside for 10 minutes.
Mix together all the ingredients for Pineapple Salsa and place it in the fridge while you cook the fish.
Whisk together all the ingredients under garlic yogurt sauce and place this in the fridge as well. You can make this ahead for up to a few hours.
Heat a tablespoon of oil in pan, and place the fish. Cook on medium high heat for 4-5 minutes on each side till the fish is cooked through and can be easily flaked.
Heat the tacos in the remaining oil for a minute or you could place them in the microwave. To assemble, divide the fish and pineapple salsa between the tacos and top with garlic yogurt sauce, avocados and more cilantro.
This post was created in partnership with My Food Story and first appeared on www.myfoodstory.com