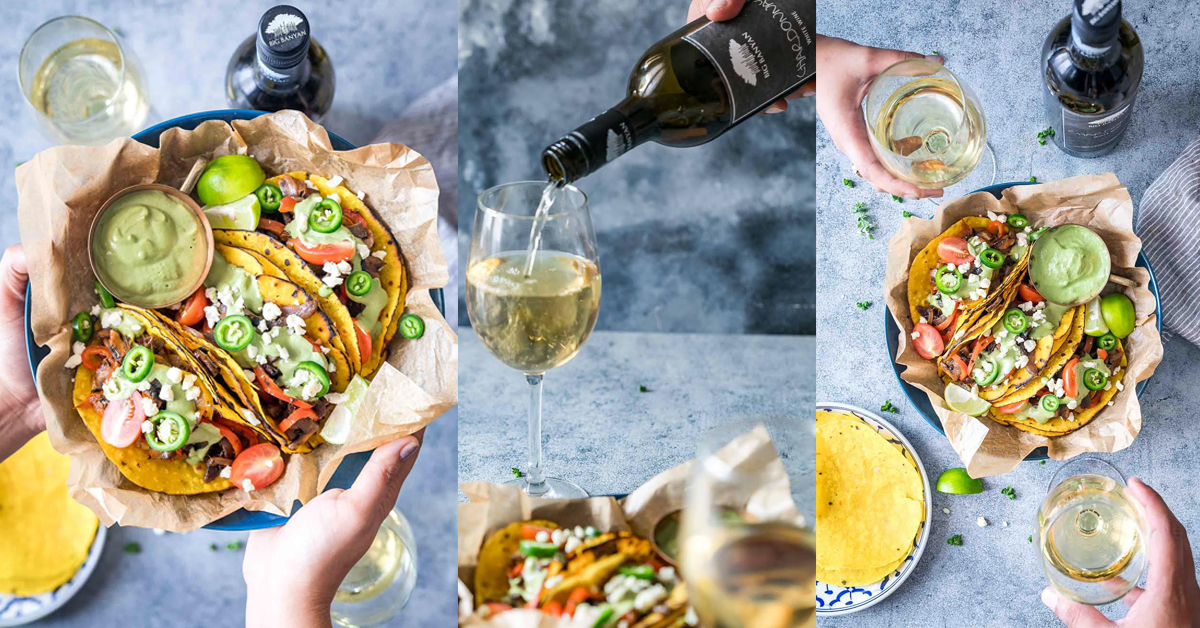 Come September, India is abuzz with festive preparations and celebrations. With guests dropping in at all hours, shopping for the big day, getting your home ready, you often end up with lesser and lesser time to spend in the kitchen. This quick and easy recipe is inspired by the mood of the season. Richa Gupta of My Food Story, created it, specially for you.
Here's what she's got for you.
Let's not let weather dictate what we eat right now because these Portobello mushroom fajita tacos are the perfect way to feel like it's a party.
Taco night is a pretty regular affair here at the Dsouza's and we are always experimenting. A lot of this and that went into these mushroom fajita tacos and I have to tell you, these can give any meaty tacosa run for their money.
And I know its festival time. Dussehra's almost here and some of you are going to be vegetarian for the next couple of days. So, this is a double treat. Because you won't miss the meat, and can still enjoy a night of tacos and wine. We said it's a party, remember?
And I like to keep it light on a weekday. Which is why wine is the perfect pairing. I love pairing these with Big Banyan's Chardonnay because it has a beautiful aroma of pineapple and pears. It's crisp fruitiness and light sweetness makes it just right for these Portobello mushroom fajita tacos which are smoky, slightly spicy and still light and easy. I topped these with some goat's cheese to balance out the flavors, and add a bit of creaminess.
I'm also thinking that these would be perfect for a Dussehra taco party. I can just see this is happening. Lay out all the ingredients:
Portobello Mushroom Fajita Filling
Corn Tacos
Cherry Tomatoes
Jalapenos
Limes
Avocado Cilantro Sauce
Goats Cheese
Big Banyan's Chardonnay
And let your guests make their own tacos. It's such a fun way to get the party going, and everyone loves taco night!
You'll need
For the tacos
1 tablespoon Oil
1 teaspoon minced Garlic
1 large Onion, sliced
4 cups sliced Portobello Mushrooms
1 cup sliced Bell Peppers (Red, Green and Yellow)
1 teaspoon Paprika Powder
1 teaspoon Cumin Powder
1/2 teaspoon Chipotle Powder
Salt to taste
6 to 8 Corn Tortillas
For the avocado cilantro sauce
1/2 cup Greek Yogurt
1 ripe Avocado, pitted and peeled
1 Jalapeno
2 Garlic Cloves
3/4 cup Cilantro, loosely packed
1/4 cup Mint
2 tablespoons Olive Oil
Salt to taste
Top your tacos with:
Black Beans
Cherry Tomatoes
Jalapenos
Goats Cheese or Feta
How to make it:
Taco filling:Heat oil in a pan and add garlic. Sauté for a minute and add onions and mushrooms. Stir fry on medium high heat for 3-4 minutes till the onions and mushrooms are tender but not completely wilted. Add bell peppers, paprika, cumin powder, chipotle powder and salt. Cook for another 2-3 minutes and turn off the flame.
Sauce:For the avocado cilantro sauce, blend everything in a blender till smooth. Add a tablespoon or two of water if you like a thinner sauce.
Assembly:Heat the tacos on both sides on a pan or just toss them on an open flame or grill for a little char. Add mushroom fajita filling to each taco, top it up with black beans, tomatoes, jalapenos and goats cheese and drizzle some sauce. Enjoy with a glass of Big Banyan's Chardonnay!
This post was created in partnership with My Food Story and first appeared on www.myfoodstory.com