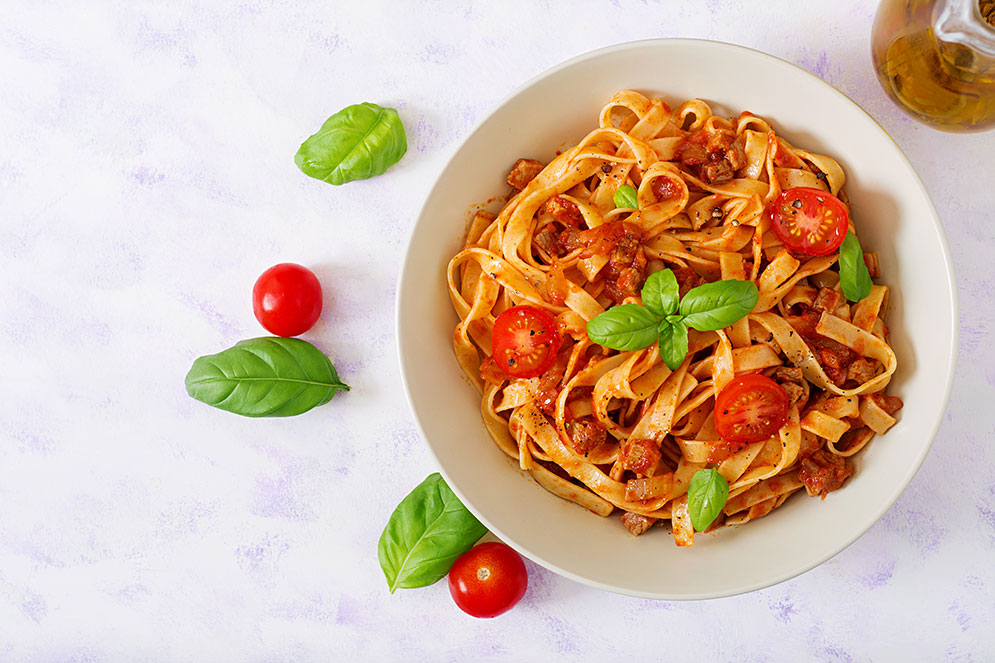 This seems like an obvious thing, right? The pairing choice is so natural that you'd not think twice about it. Be it at home, or your favourite Italian restaurant, your choice of drink with pasta is inevitably wine. But do you know what wine works well with the pastas on the menu? If the restaurant has a knowledgeable sommelier, you're lucky. Else, you're left to fend for yourself. Fear not! Pairing your pasta and wine is actually quite simple. Focus on the sauce and the ingredients and you'll find your pairing partner.
Pastas with rich tomato sauce
The plummy tang of an Arrabiata sauceis so comforting. You could have it almost every day. For this simple, soulful pasta we recommend the Merlot. The mellow flavours of the wine, with a hint of plums, berries and cherries, and the soft velvety tannins, offer a perfect balance. And you feel right at home with the experience.
Seafood pastas
Just thinking about this makes our mouth water! Prawn pasta in a light sauce of lemon and butter garlic is an absolute classic! Our go-to wine for this would be a Rosé. The fragrant burst of berries, and the lightness of the wine add a refreshing spin to the seafood.
Aglio e olio
For this stripped-down-to-the-basics pasta, we'd pick Chardonnay. The dry wine cuts through the oily dressing of the pasta, thus creating a fine balance of flavours. Moreover, the fruity undertones of the wine, offer a delicious new spin to the core ingredients of the pasta.
Pastas in cream sauce
Rich, cheesy/creamy pastas are so decadent. Our choice of wine for a cream sauce pasta would be the Shiraz. The dryness of the wine contrasts well with the creaminess of the pasta. And the fruity, spicy notes add new layers to the subtle flavours of the pasta.
Lasagne
This soulful preparation, with its comforting flavours, tastes divine when paired with Shiraz or Cabernet Sauvignon. These reds are intense and big on flavours, and they pack a punch when paired with a generous portion of lasagne.