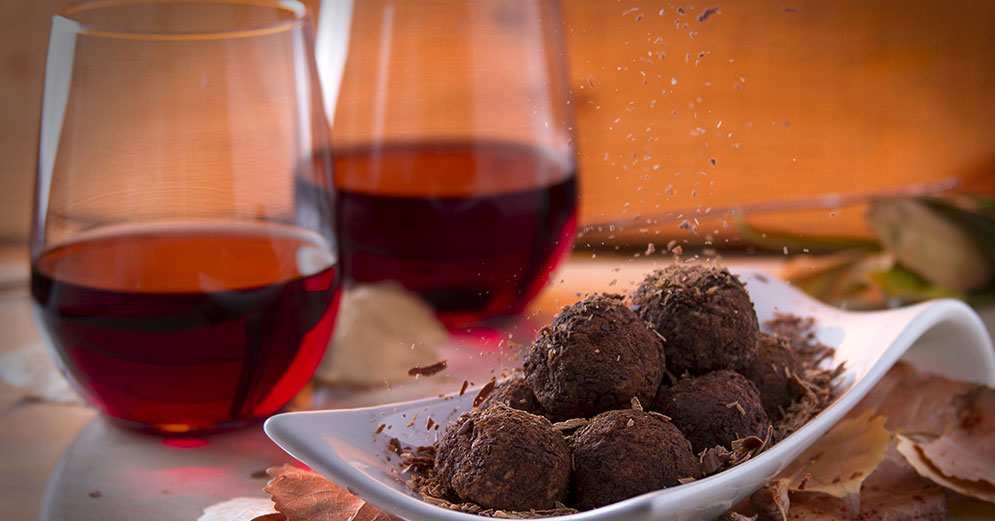 Love wine? Love chocolates? Now have the best of both worlds with this wine and chocolate pairing guide.
Be it a tray of truffles or a decadent dark chocolate cake, all of us have, at some point, wished for the perfect wine to complement our chocolate cravings. After all a combination of two of the most favourite food groups in the world – with powerful aphrodisiacs and great anti-ageing properties – has to be phenomenal!
But wine and chocolate is considered one of the most difficult pairings. In fact some folks believe it cannot be done at all! This is because their components (specifically tannins) can create imbalance and clash with each other. So essentially, it boils down to balance – that's actually the basic rule of any wine pairing. Balance the tastes – sweet/bitter/sour etc. of the food group and wine, and you've got it!
Let's take a look at some of the nuances of flavour then, and discover what wine goes with which variety of chocolate.
Milk Chocolate
As half chocolate and half cream, milk chocolate is perhaps the easiest to pair with wines. The creaminess of the cocoa butter gives milk chocolate a mild feel and makes it perfect to pair with light or medium bodied wines such as the merlot. The aromas of cherries and blackberries with hints of cocoa make the medium bodied Big Banyan Merlot a delicious accompaniment of creamy milk chocolate. Also a good pairing with milk chocolate are sweet, sparkling red wines or port wines.
If you prefer your chocolate with a tad more sweetness, our dessert wine, Bellissima is another great pairing option. The Muscat grapes used in making Bellissima, lend their fruity sweetness to the wine, enhancing the flavours of the chocolate.
White Chocolate
While not 'true' chocolate, white chocolate is also relatively easy to pair with wines. Subtle enough to match with white wines, yet able to pair well with dry red wines – white chocolate lends flexibility to pairing options. If you love to experiment, the chocolates' mellow; buttery flavour makes it an ideal candidate to try contrasting wine for interesting combinations. Our Cabernet Sauvignon, dry and full-bodied, with high levels of tannins, is an excellent balance to the rich, sweetness of white chocolate.
Dark Chocolate
With the highest tannin content, dark chocolate is the toughest to pair with wine. If not done well, the bitterness can be overpowering. Dark chocolate needs full-bodied wines with intense flavours such as the Cabernet Sauvignon – the more intense your chocolate, the more intense your wine should be. Dark chocolate with a high percentage of cocoa solids is best paired with a sweeter, fruitier wine such as the Big Banyan Rosa Rossa – that balances the bitterness with its light fruity aromas and flavours or the Bellissima.
Flavoured Chocolate
Pairing wines with flavoured chocolates is slightly more complicated. In addition to the chocolate you now need to consider the flavour profile of the additional ingredient. For example, sparking wine, or the fruity notes of Big Banyan Rossa Rosa would be a great combination with chocolate covered strawberries. For mint-flavoured chocolate the best bet would be a dessert style red wine. Lavender truffles pair well with Bellissima and Limited Shiraz with chocolates containing nuts. For caramel chocolates look for wines aged with oxidation.
Pairing wine with chocolate is an art – and a unique one as it depends on individual palates. However, the most important thing for wine enthusiasts is to enjoy and appreciate the flavours. So if things look too complicated, just remember these points and you'd seldom go wrong:
Pick a wine sweeter than the chocolate
Avoid dry red wine at all costs
Opt for a similar style and weight
Here's to experimentation! Cheers!