wines
There's a wine for every reason and every season. For spring that ushers in fresh beginnings. For summer that holds out a golden ray of hope. For autumn that is the harbinger of change and deep reflections. For winter that rings in celebrations and merry times. Each wine we create captures the turn of seasons, the mood of nature. It is also a reflection of your life, your spirit, and the moment you are in.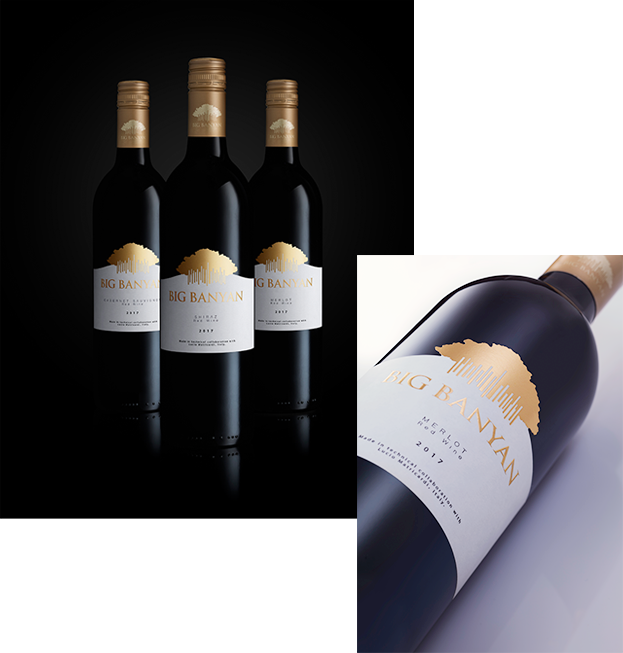 red wines
Our reds have rich and robust, plummy undertones. They are perfect for a winter's night, for a merry celebration or a moment of solitude.
Merlot
A quintessential red, the Big Banyan Merlot is divinely smooth. The ripe berries used for this wine, love the warmer climes of India, and it is evident in the plummy finish of the wine.
Pairing suggestions: Pan-fried steak, lamb burgers, roast chicken with thyme and onions, chicken tikka masala, grilled fish and red meats, caramelised onion tartlets, Bolognese and béarnaise sauces, Shepherd's pie, cheddar and red Leicester cheese.

Cabernet Sauvignon
The Big Banyan Cabernet Sauvignon has a deep, intense personality. While the grape is harvested across the world, the warmer climes and varied soils of India make it more interesting.
Pairing suggestions: Strong pungent cheeses like the Danish Blue, steaks and chops, kormas, rich Punjabi dishes with a creamy gravy, braised lamb shanks with rosemary, moussaka and tofu with ginger-sesame sauce.

Shiraz
The robust personality of Big Banyan Shiraz will leave you in awe. The aromas of the berries come alive in the warmer temperatures of India.
Pairing suggestions: Sweet and spicy barbeque sauces, mushroom risotto, cold cuts like pepperoni and chorizo, barbeque preparations with smoky, charred flavours and dum biryani.

white wines
Crisp, light and summery, our whites are perfect for picnics on the patios, lazy brunches, and breezy moments.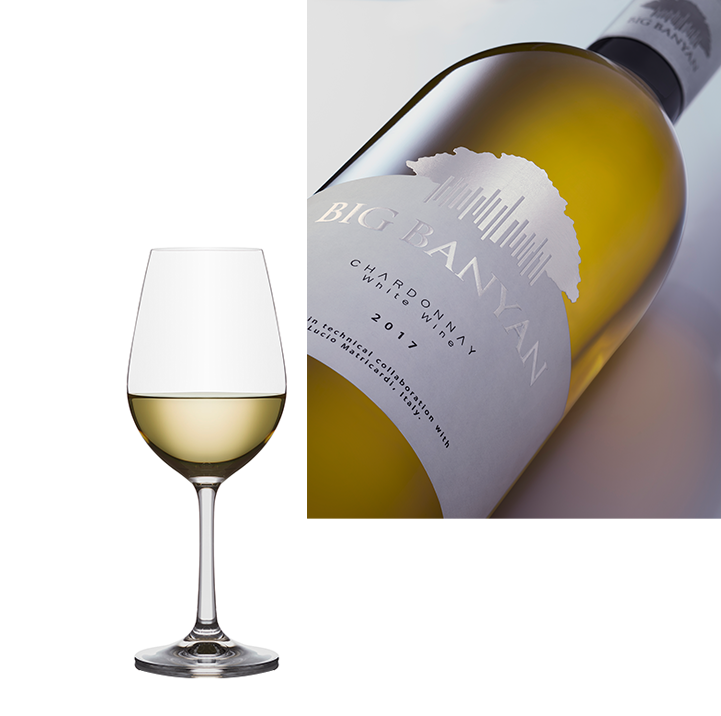 Chardonnay
A sophisticated and elegant wine, the Big Banyan Chardonnay is the life of any celebration.
Pairing suggestions: Fatty fish, like salmon, or fish in a rich sauce, lamb curry, sashimi, buttery dishes like makhanis, avocado, prawns in garlic butter sauce, or buttery mashed potato and tortillas.
Chenin Blanc
A zesty, easy-going wine, the Big Banyan Chenin Blanc pairs well with anything and any mood.
Pairing suggestions: Medium spicy curries, South Asian cuisines with sweet and sour elements, like sweet and sour pork, cream cheese, gruyere, brie and zucchini with goat cheese and pancetta.

Sauvignon Blanc
The Big Banyan Sauvignon Blanc is perfect for an Indian summer. Its herby aromas take you to a cool garden with freshly cut grass.
Pairing suggestions: Salads with tart dressings, scallops with grapefruit and onion salad, saag paneer for a savoury flavour profile, clams cooked in parsley and butter, goat cheese tart, chicken and fish in light cream sauces and chicken or paneer tikka.

Viognier – White Wine
With fruity floral notes, a golden gleam and a hint of cloves, the Big Banyan Viognier – White Viognier White Wine is the perfect summer's dream. Take a moment to enjoy a sip of sunshine.