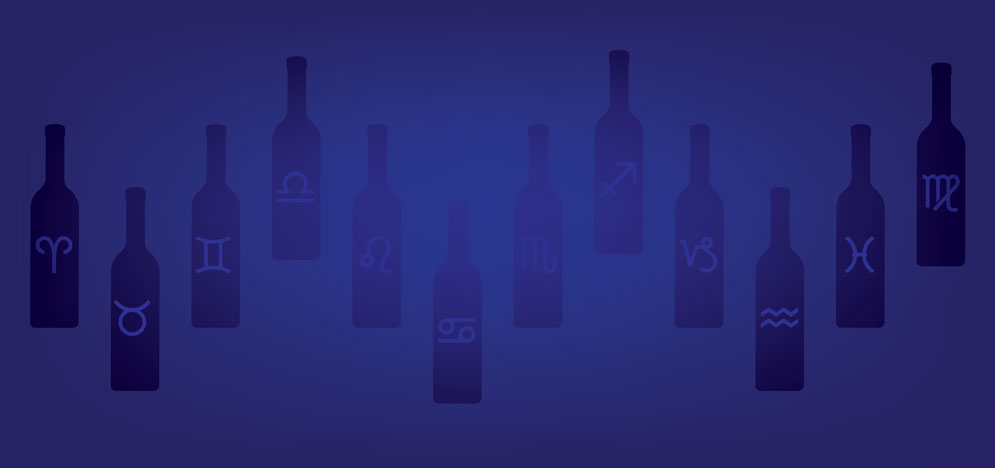 Cheap thrills, guilty pleasure or just blind superstition – call it what you may, but who isn't curious about knowing what the stars have got to say? We've all pored over Linda Goodman's notes. We check out horoscope sections, and can't help drawing parallels to our life and love. And when Nasa declared that the stars have realigned themselves, we gasped in mock outrage at having our star sign stolen from us. That's when we reached out for the wine glass and decided to do a zodiac based wine analysis.

Aries
Fearless, adventurous and a mini tornado of activity, Aries is a fire sign. People born under this sign are always game for something new (often thinking after leaping). They love new explorations. And considering the fire in their spirit, they are naturally inclined towards a spicy/fiery, fruity ruby red wine – like the Big Banyan Shiraz.
Taurus
A tranquil, peace loving sorts (unless pushed – then expect the 'bull' in them to surface), those born under this sign love pottering in their garden, listening to music, cooking or simply working with their hands. There is something sensual in their innate calm. And for this, and their steadfast, reliable nature, we recommend the Big Banyan Chardonnay. A wine that won't ruffle them in any way, except to tease their senses with its fruitiness and luxuriant taste.

Gemini
Mercurial, whimsical and super outgoing kind, Gemini is a typical air sign. Many consider them two-faced, but we think they've got two interesting facets to their personality. And because of their dual nature, we recommend two wines for them – the Big Banyan Chenin Blanc and the Big Banyan Cabernet Sauvignon. One red and one white, to suit their ever-changing moods. And both the wines are versatile and complex enough to keep the Gemini hooked.
Cancer
Like the crab that represents this sign, these folk are hard on the outside but soft and mushy inside. They believe in forging true bonds and nurturing relationships. And that's why we think they deserve a Limited Shiraz. A special red vintage, it is the perfect wine for cozy settings with near and dear ones.
Leo
The most noble of our reds works for the most noble of star signs. The Big Banyan Merlot is smooth and has an arresting personality. Yet it is approachable. It leaves you with a feeling of warmth and familiar comfort. All traits that are typical of a Leo. Moreover, this red wine is a perfect choice when the lion-hearted sit down for a meal. Its bold flavours complement pretty much anything, especially meat!
Virgo
The sweet and the soft-spoken ones get overlooked in a group. But when you strike a conversation with them, you're often pleasantly surprised. That's a Virgo for you. They may be subtle, but they are sophisticated. They may not be your typical party-going type, but you're more likely to find them at home, unwinding with a glass of wine. And for that we recommend the Big Banyan Rosa Rossa. Most people would overlook the rosé for a robust red or a crisp white, but not a Virgo – na-uh!
Libra
The balance that represents this sign says it all. People under this sign are natural born jugglers. They know just how to strike a balance between love, business and all things that matter. They work hard and play even harder (forgive the cliché). And to give their near-perfect personality a little cheat day, we suggest the decadent Big Banyan Bellissima. A sinfully sweet dessert wine, this will allow them to give in to their guilty pleasures. And unhinge them a bit.

Scorpio
Passionate and intelligent, a Scorpio will mesmerize you with his/her intensity. They can draw you in, the same way a crisp white wine like the Big Banyan Sauvignon Blanc will. The dry notes of this wine may be understated, but they leave behind a lasting impression.
Sagittarius
If you want to have a buzzing party, call a Gemini. But make sure a Sagi plans it. Excellent planners, great advice givers and large hearted, the Sagittarius folk are fun to be around. Their easy-going nature calls for a Big Banyan Rosa Rossa. Its light and fruity flavours complement their love for the unexpected.
Capricorn
For the folk of this sign, who keep pushing on (come what may), the rich full-bodied Cabernet Sauvignon is the go-to wine. It suits their love for all things classical, and appeases their flair for sophistication.
Aquarius
Down to earth, with streaks of flamboyance, Aquarius is an air sign. We recommend the Big Banyan Shiraz for them. Because this rich red is perfect for an evening at home or a night out on town.

Pisces
The last sign of the Zodiac is a dreamer with a fantastical imagination. The elegance of Big Banyan Merlot does poetic justice to the personality of someone born under this star sign.