This article is the conclusion of a three-part series by our Guest Blogger of the month, KankanaSaxena of Playful Cooking. Read on to see what was on the menu and make note of your favourite recipes.
Over to Kankana.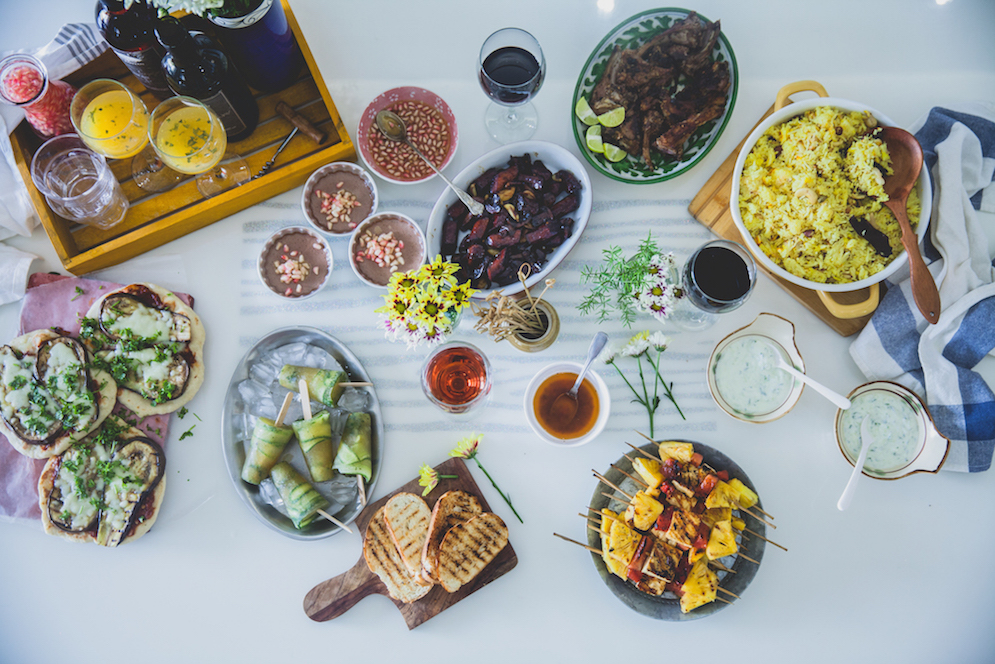 A colourful spread packed with flavours, happy guests and lots of laughter! It was exactly how I hoped the get together would turn out. I am no expert in throwing parties or paring wine with food. I just went with the flow and it worked quite well.
Menu
Cocktail
Aamras White Wine Cocktail
Rose Pomegranate Spritzer
Appetizer
Paneer Watermelon Pineapple Skewers
Mushroom and Sausage Bites
Main Course
Spicy Mutton Chops with Cucumber Yogurt along with Nuts and Saffron Rice
Grilled Eggplant Naan Pan Pizza
Dessert
Chocolate Panna Cotta topped with Pomegranate
Cucumber Mint Winesicles
This was the first time I tried to make cocktails with wine. The first sip that I took immediately after mixing was not too convincing but it tasted wonderful after it rested in the refrigerator for a couple of hours. The flavor blended better making it quite tasty.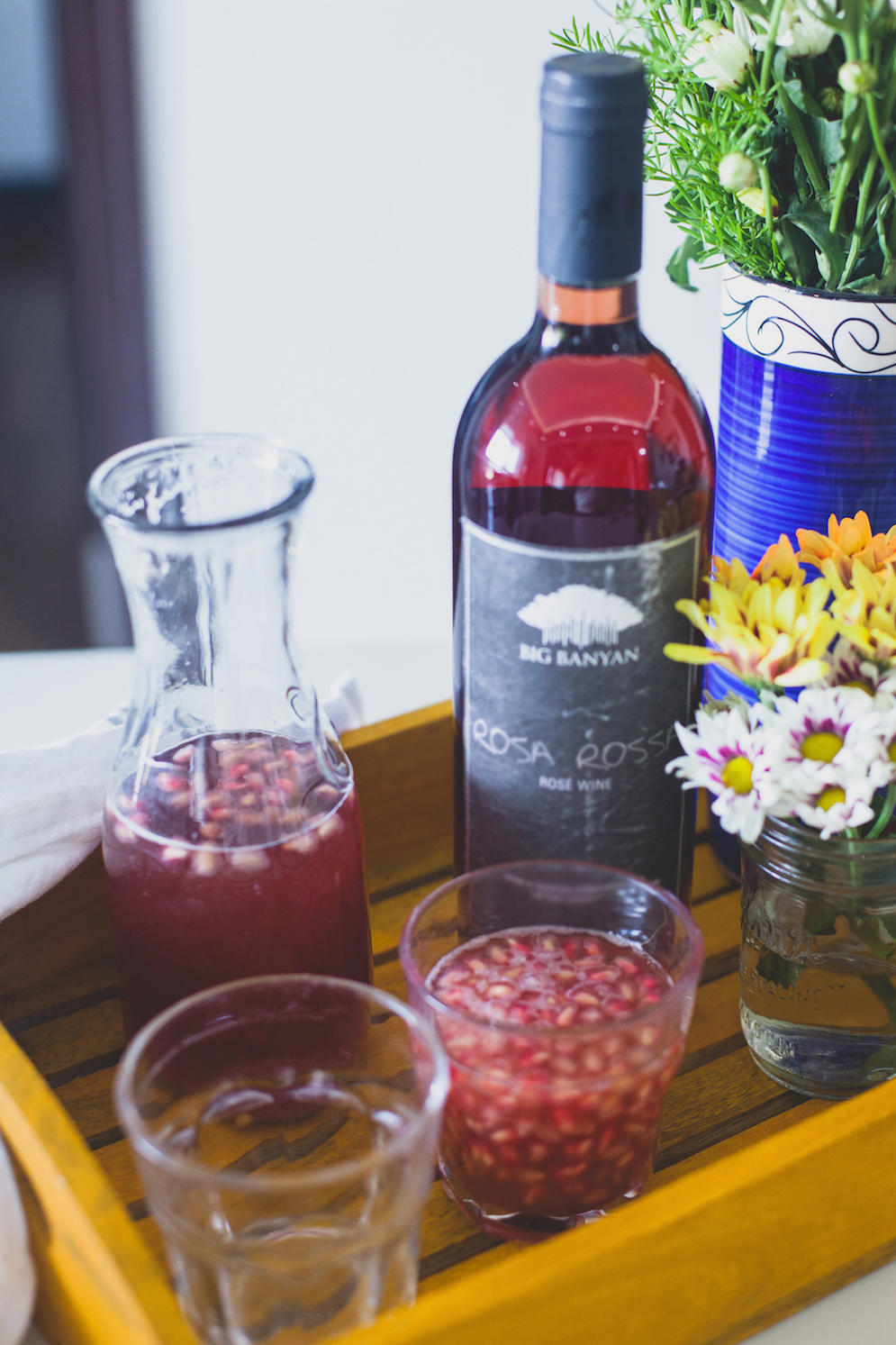 Recipe for Aamras White Wine Cocktail
Ingredients:
1 mango
5 green cardamoms, remove the husk and retain the seeds
1 cup sugar
1 cup water
handful of fresh mint, finely chopped
Directions:
Peel the mango and take the pulp out in a blender. Add cardamom seeds and give it a blend to make a smooth puree.
Pour sugar and water in a pan. Bring it to a boil and allow it to cook for a few minutes. Switch off the heat and allow the syrup to cool down to room temperature.
Pour a bottle of Big Banyan Chardonnay into a pitcher along with the mango puree, syrup and chopped mint. Give it a stir and allow it to rest in the refrigerator for at-least a couple of hours.
You could either serve it as is or strain it and then serve.
Summer parties are almost incomplete without some grilling. The mini skewers of paneer, watermelon and pineapple fit right in and paired quite nicely with both the cocktails. The mushroom and sausage bite was a hit in the party. Loaded with garlic, hint of merlot and a little sweetness from honey, it was moreish!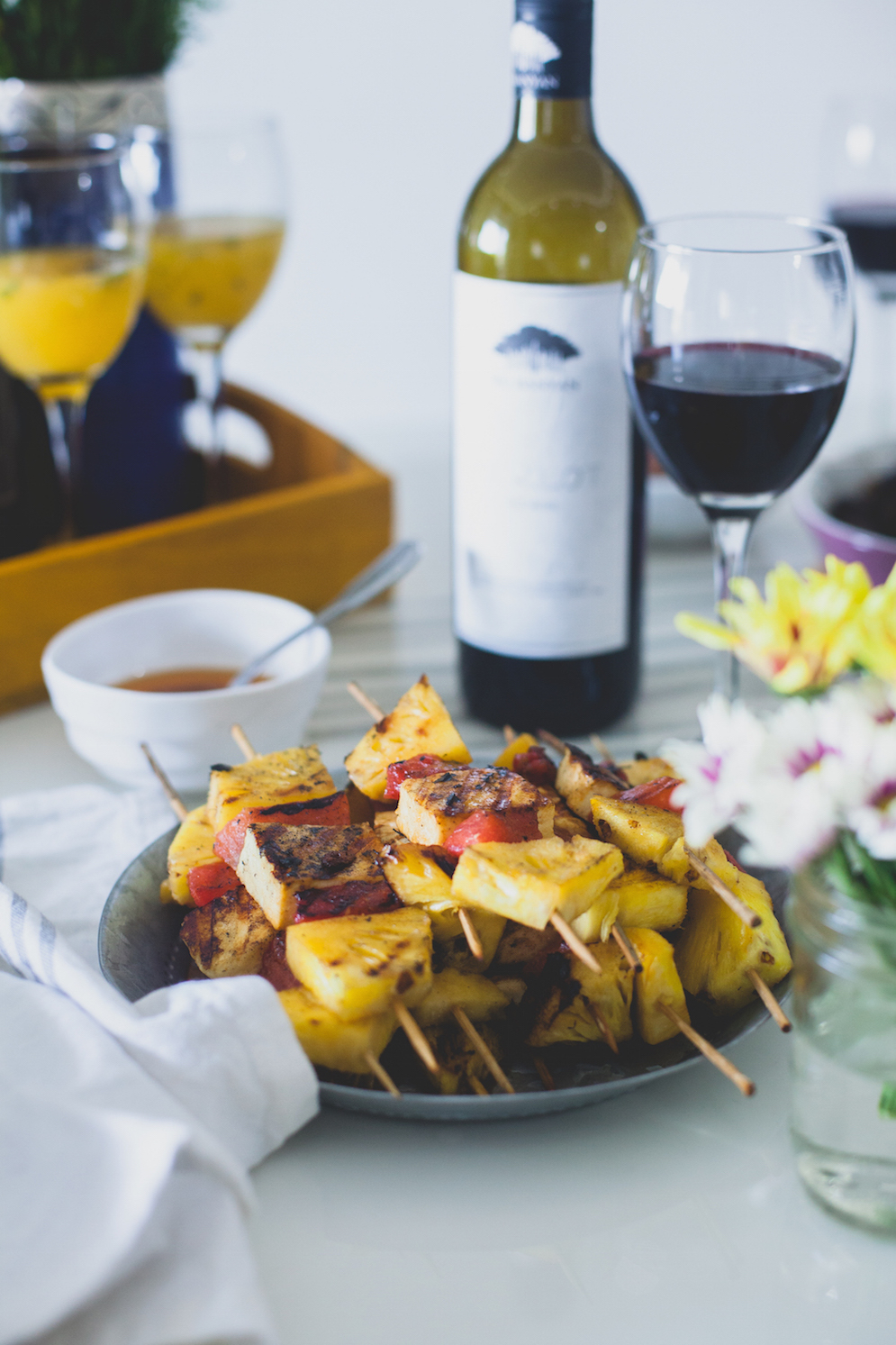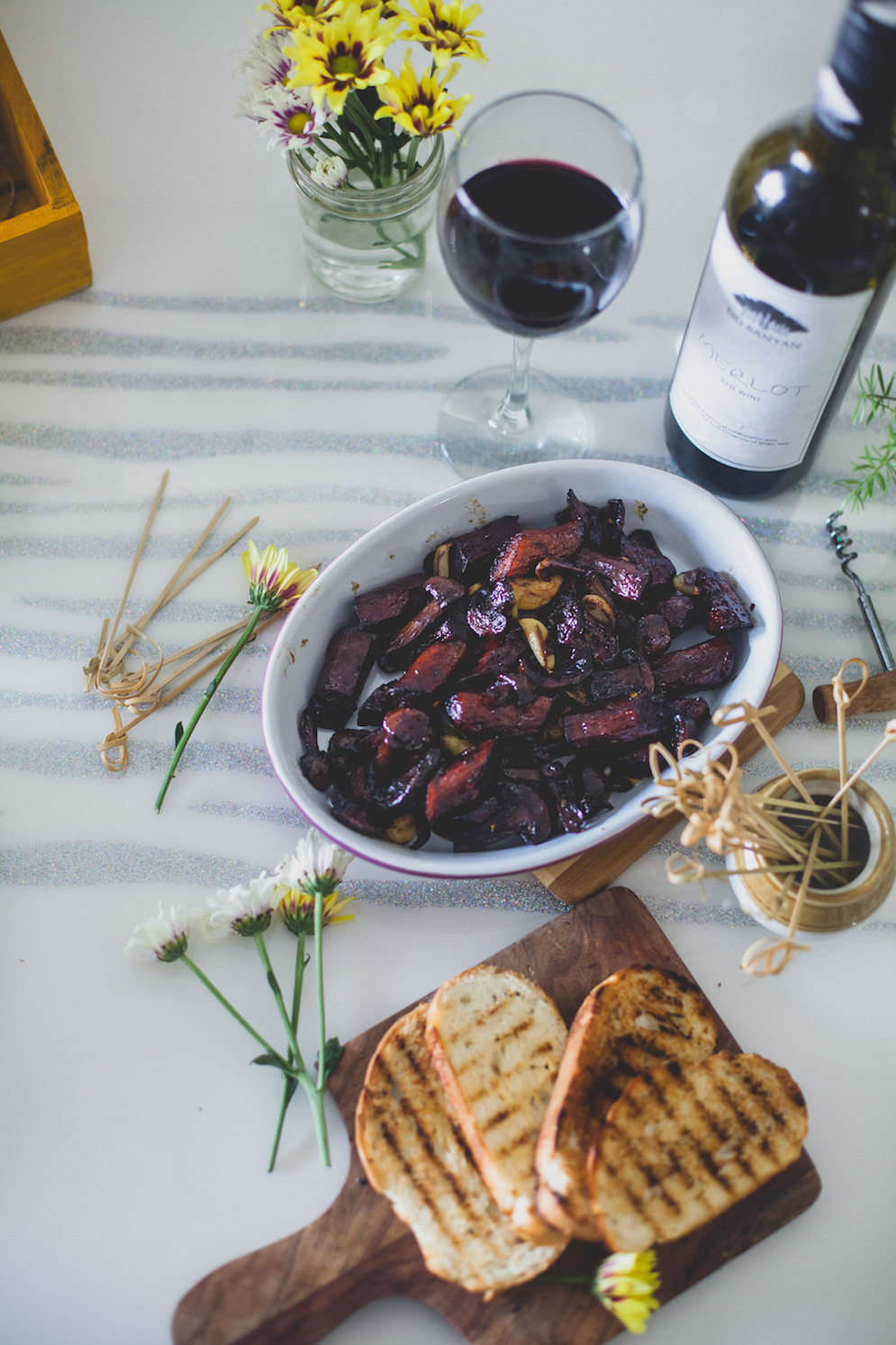 Recipe for Mushroom and Sausage Bites
300-grammushroom, cut in half
300-gramsausage, cut in bite size
1 tablespoon butter
10 garlic cloves
1 tablespoon honey
1 tablespoon oregano
1 cup Big Banyan Merlot
salt
pepper
oil
Directions:
Pour 2 tablespoons of oil along with butter in a pan and drop the peeled garlic cloves. Turn on the heat and allow the oil to heat up slowly. This will infuse the oil and cook the garlic slowly.
Once the garlic turns mild golden in color, drop the mushroom and sausage. Sprinkle salt, oregano, pepper and give it a stir.
In a couple of minutes, pour wine and cover the pan. Allow it to simmer in medium low heat for about 10 minutes.
Finally, add honey and mix together. Taste for salt and add any, if required.
Take it off the heat and serve warm with some bread on the side.
I wanted to include both rice and bread in the main course because that's how typically we Indians love our meal. However, I wanted to avoid any kind of curry and take a more modern approach that would fit better when paired with wine. The nuts and saffron rice with mutton chop was filling and we washed it down with a glass of merlot. The naan pizza was a fun idea and everyone loved it. Preparing the naan dough and the tomato sauce overnight made it easier to put together the pan pizza on the day of the party.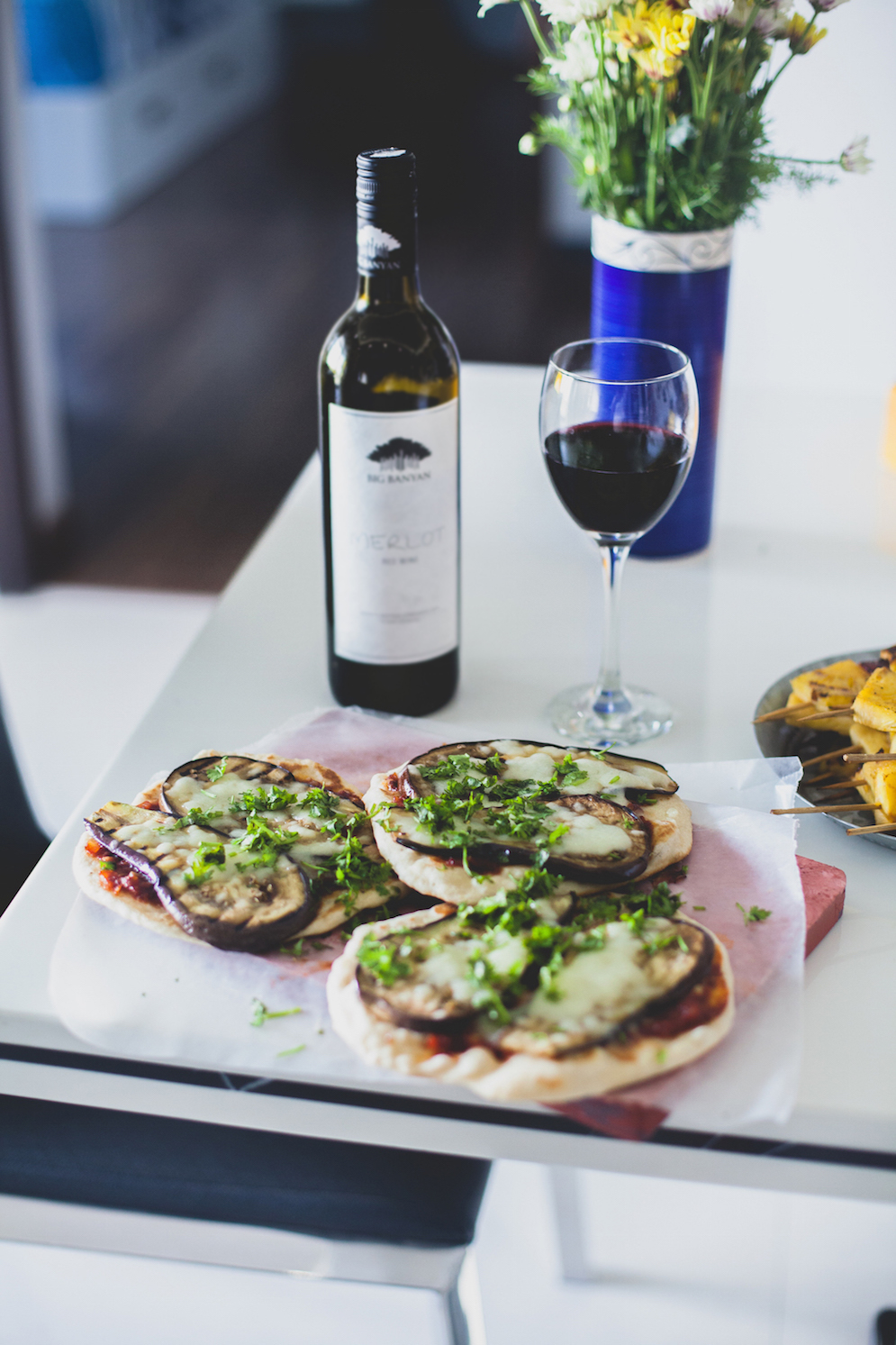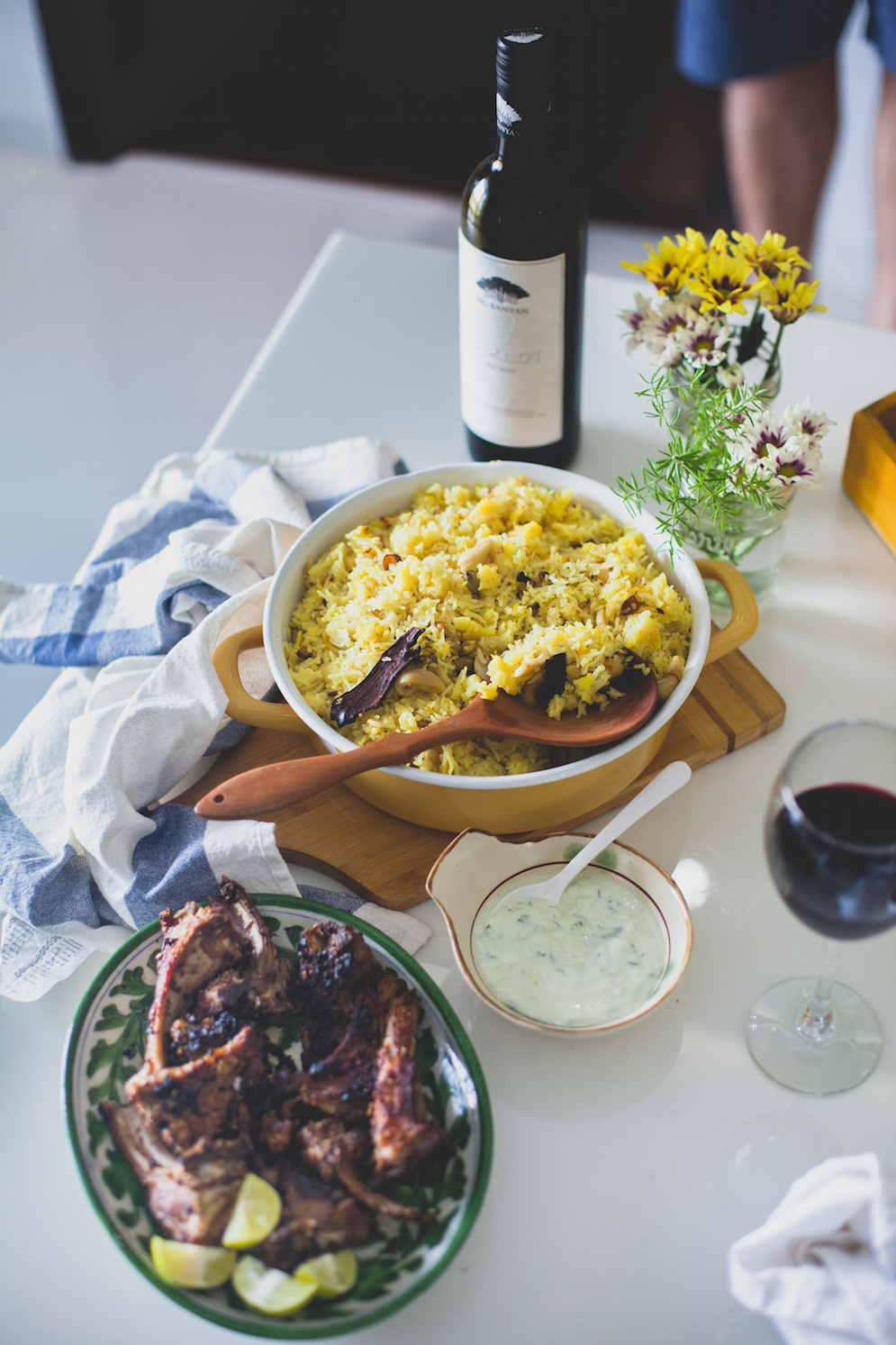 Recipe for Grilled Eggplant Naan Pizza
Ingredients:
For naan dough
1 cup all-purpose flour
½ cup wheat flour
1 cup yogurt
1 teaspoon baking soda
1 tablespoon clarified butter (ghee)
1 teaspoon sugar
pinch of salt
For the tomato sauce
1 tablespoon butter
1 red onion, finely chopped
5 garlic cloves, finely chopped
500-gram tomato puree
1 teaspoon sugar
1 teaspoon fennel powder
salt
pepper
Other ingredients
2 long eggplants, thinly sliced.
500-gram mozzarella cheese, grated
salt
oil
Direction:
For the naan dough, add flour in a bowl along with baking soda, salt and sugar. Give it a whisk. Now, pour ghee and give it a mix. Finally, pour yogurt and start kneading. If it gets too sticky, add more flour and if it's too tight, then add more water. The dough should be soft. Cover and let it rest for at-least 30 minutes. You could also prepare it previous night, store in airtight jar and keep it in the refrigerator.
For the tomato sauce, add butter in a pan and drop the garlic along with onion. Sprinkle salt, pepper and cook until the onions are translucent. Pour tomato puree, sugar, salt and fennel powder. Stir and allow it to cook in low heat until the sauce looks thick. It should take about 15 minutes.
In a grill pan, add oil and grill the sliced eggplants and keep them aside to be used later.
To prepare the naan pizza, start by dividing the naan dough into equal portions. Roll a portion of naan dough into a circular shape. Heat a flat pan and find a lid that can cover it loosely. Brush water on one side of the rolled dough, place the wet side of the dough on the hot pan and cover immediately. In a few minutes, it will puff up evenly. Take a spatula and flip the naan. Pour 1 or 2 tablespoons (depending on the size of the naan) of the tomato sauce and spread it evenly. Place a couple of grilled eggplants and scatter grated cheese on top. Cover and allow it to cook in low heat until the cheese melts. You could also put it in the oven and broil it for a while so that the cheese melts and gets golden brown.
Serve warm!
As for the desserts, I wanted to choose something that could be prepared previous night. The season called for some refreshing popsicles as one of the dessert. And we ended the party with a chocolaty second dessert! Both the desserts take barely any time to prepare and the next day, you can serve it straight from the fridge without putting any extra effort.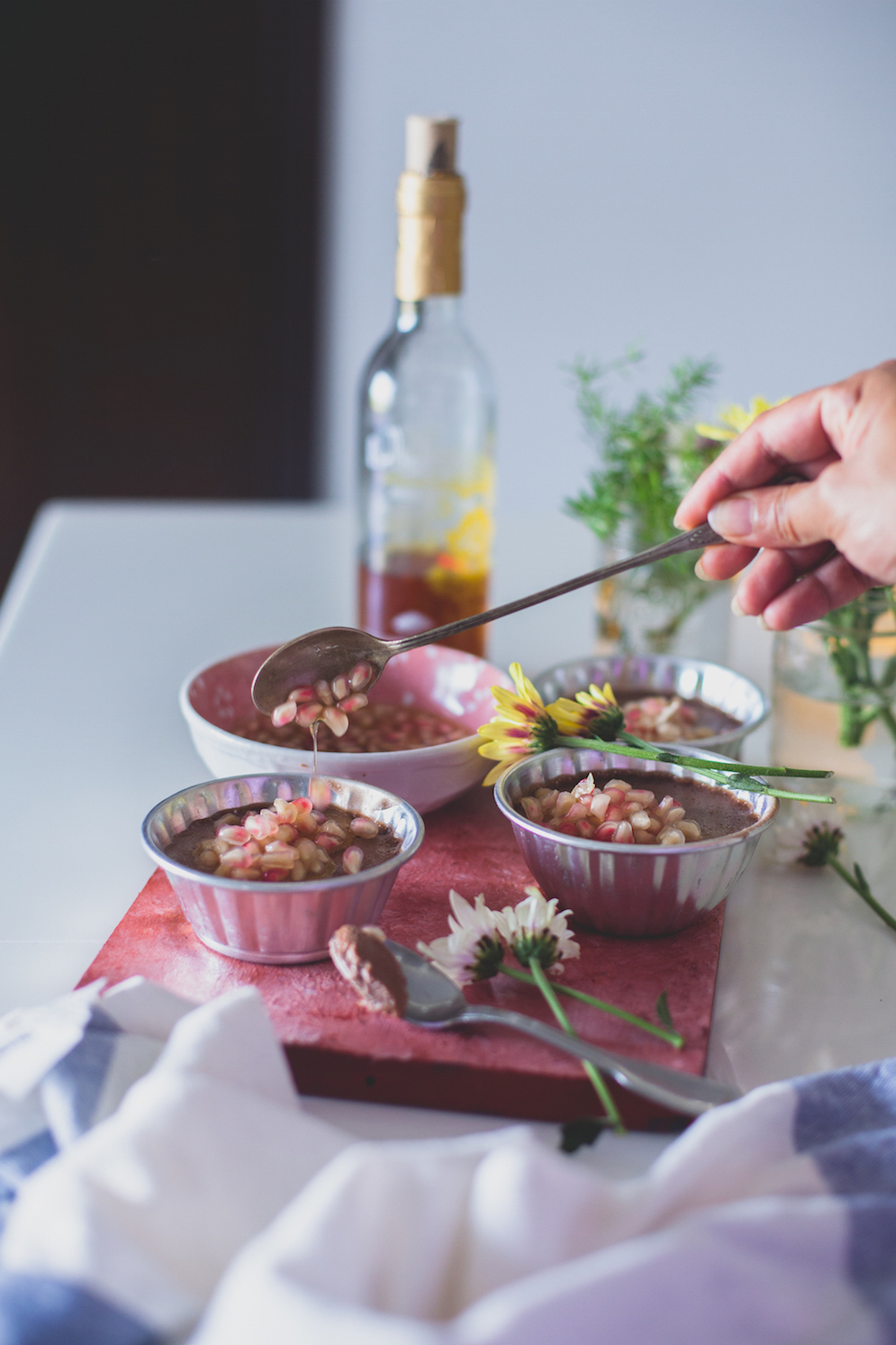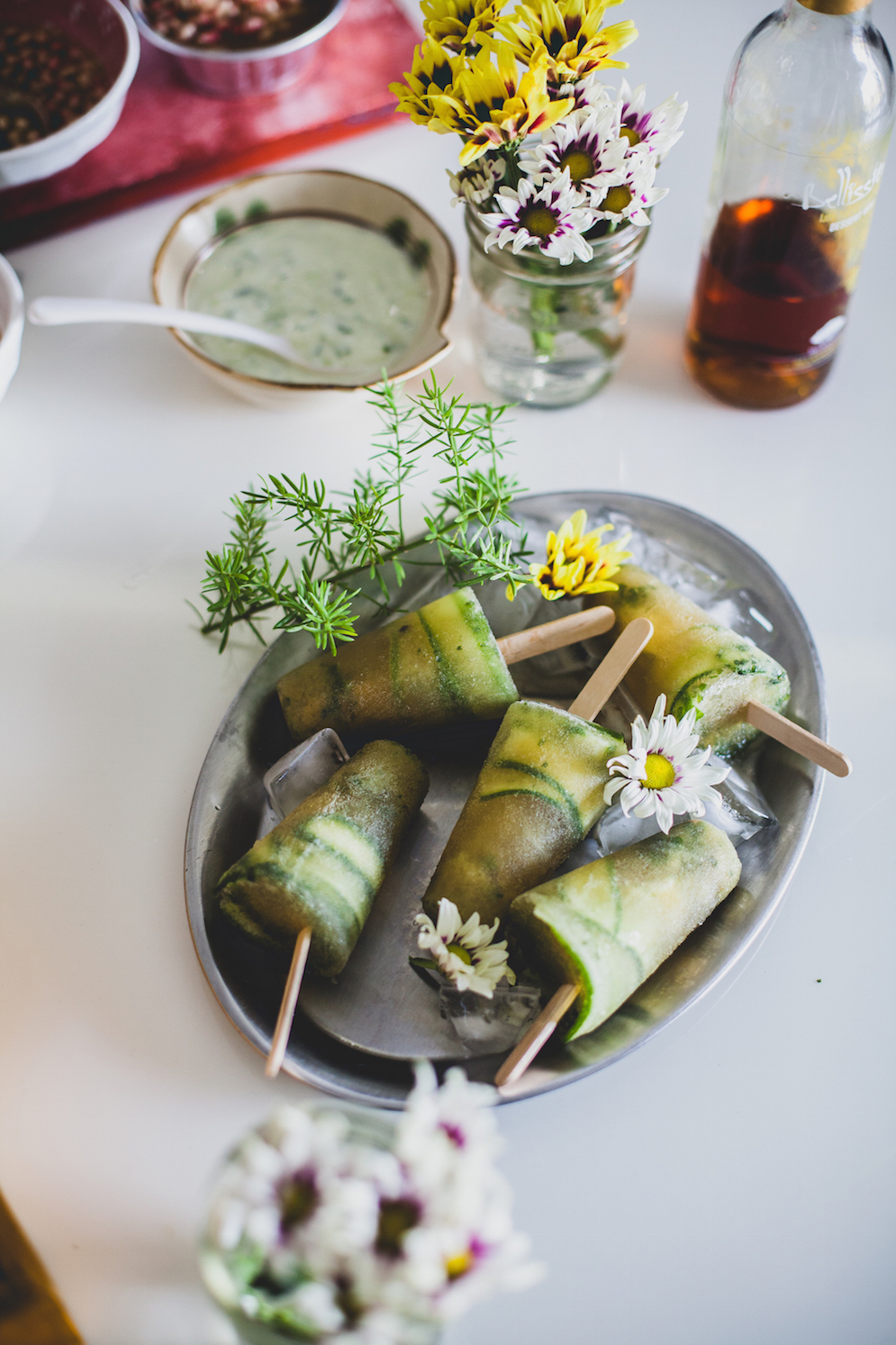 Recipe for Cucumber Mint Winesicles
Ingredients:
3 cucumbers
½ inch ginger
Handful of fresh mint
1 bottle Big Banyan Bellissima
Directions:
In a blender, add 2 peeled and roughly chopped cucumbers along with ½ inch peeled and roughly chopped ginger. Once blended, pour it through a strainer and collect the juice in a jar.
Add wine and finely chopped fresh mint to the jar. Give it a mix.
Using a vegetable peeler, peel 1 cucumber into thin strips.
Take the popsicle mold and start by sticking the cucumber strips on the side of the mold. Then, pour the cucumber mint juice mix in the mold. Repeat the process with rest of the molds. Place the molds in the freezer and allow it set partially. After a couple of hours, place the popsicle sticks and put it back in the freezer.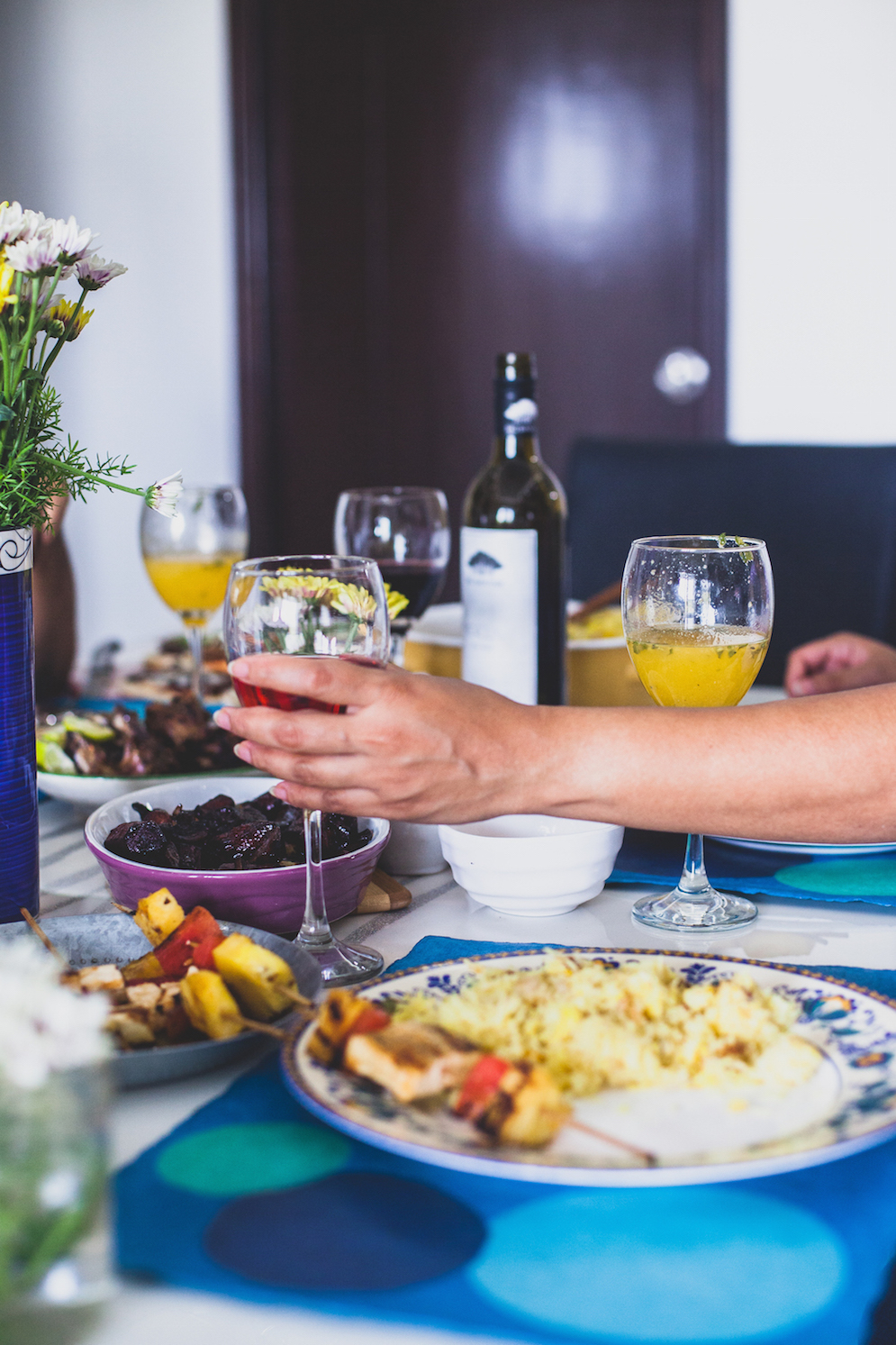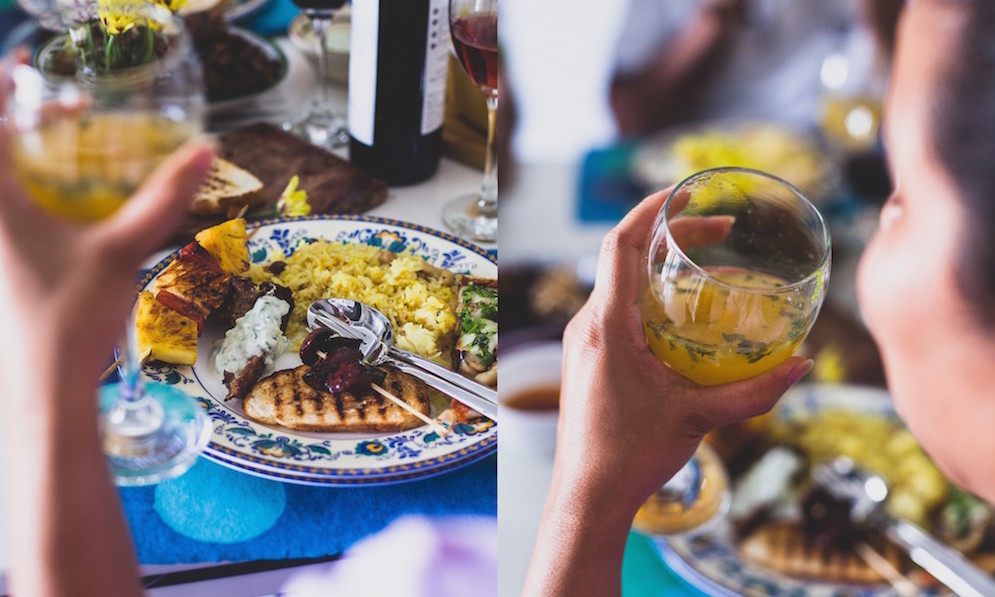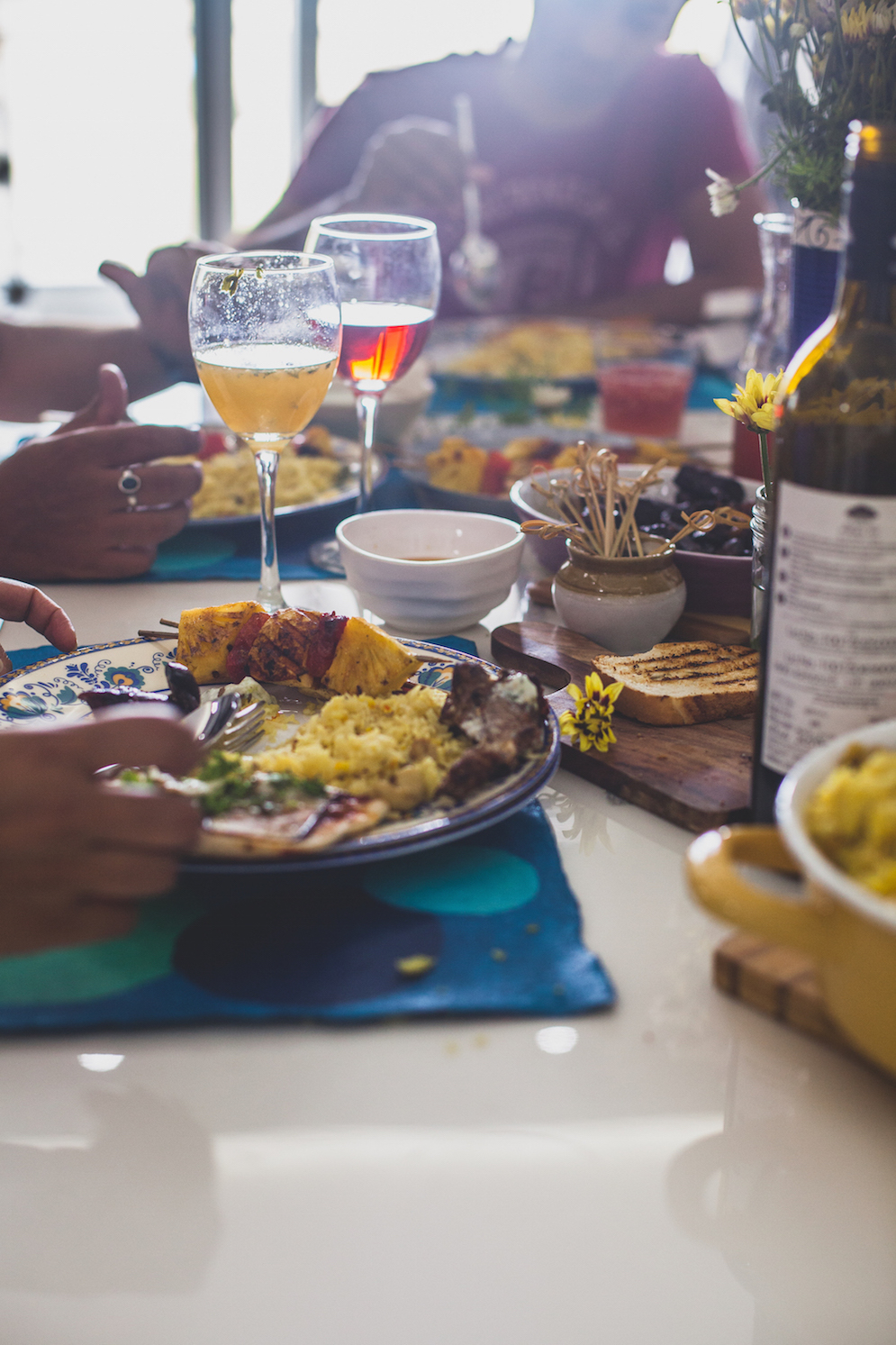 As Julia Child rightly said, "You don't have to cook fancy or complicated masterpieces – just good food from fresh ingredients"