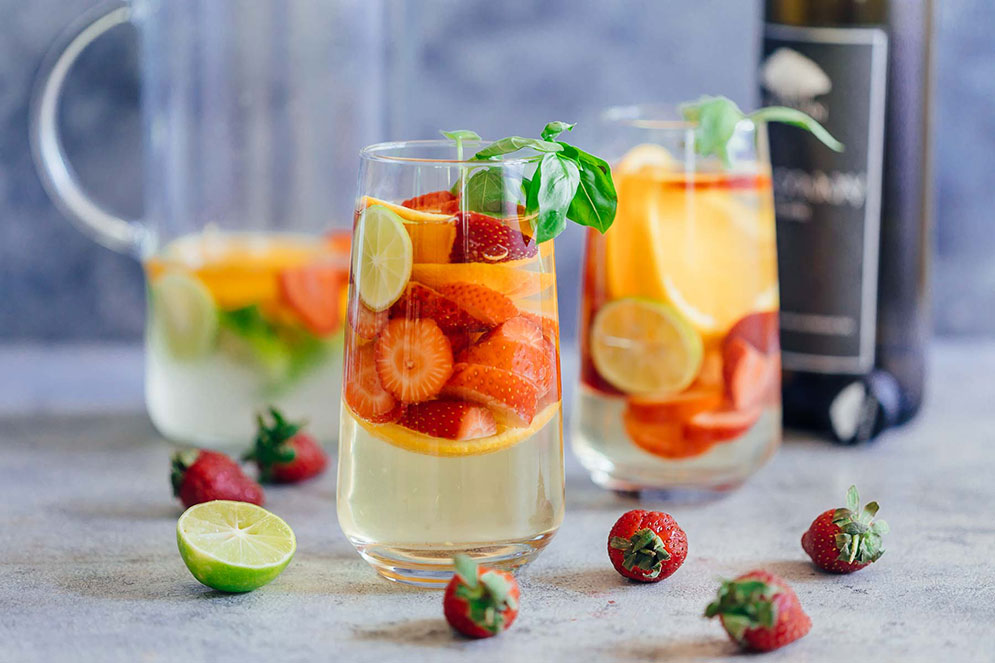 Summer's here, and it's official. The languid afternoons call for drinks that are cool, fruity and refreshing. Our absolute favourites for this season are Sangrias. These wine-based cocktails originated in Spain. But today, they are loved the world over. Traditionally, a Sangria was a punch made with red wine, chopped fruit, fruit juice, and other alcohol like brandy. You can also get creative, and play around with the ingredients. This week, we bring to you a white wine sangria that's citrusy, fresh and irresistible. Richa Gupta shares her special, go-to recipe.
Over to her.
Hola! Writing this post with a chilled glass of this Strawberry Orange White Wine Sangria in one hand. Yes, I've got skills and its officially cocktail o'clock here.
The temperature has seriously climbed since we spoke about wine last. Remember February when we were celebrating stews and wintery afternoon brunches? Well, things have changed mister.
It's time to bust out the fruits and the lemons and whip ourselves fancy white wine sangrias that can be made in a pitcher. Because the moment you taste this, you will want that pitcher!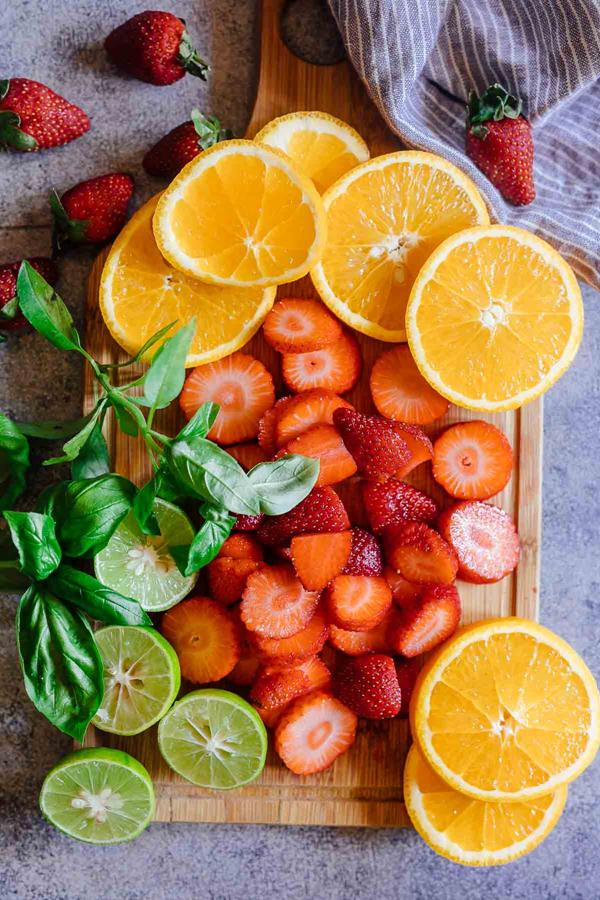 These strawberry orange white wine sangrias are refreshing, chilled, mildly sweet and fizzy and definitely the best way to beat the heat around here.
It's a simple mix of sliced or chopped fruits, basil (yes, basil, because wait till you taste it), wine, a splash of hard liquor like brandy (we are using a splash of tequila here) and some sparkling water for a little fizz.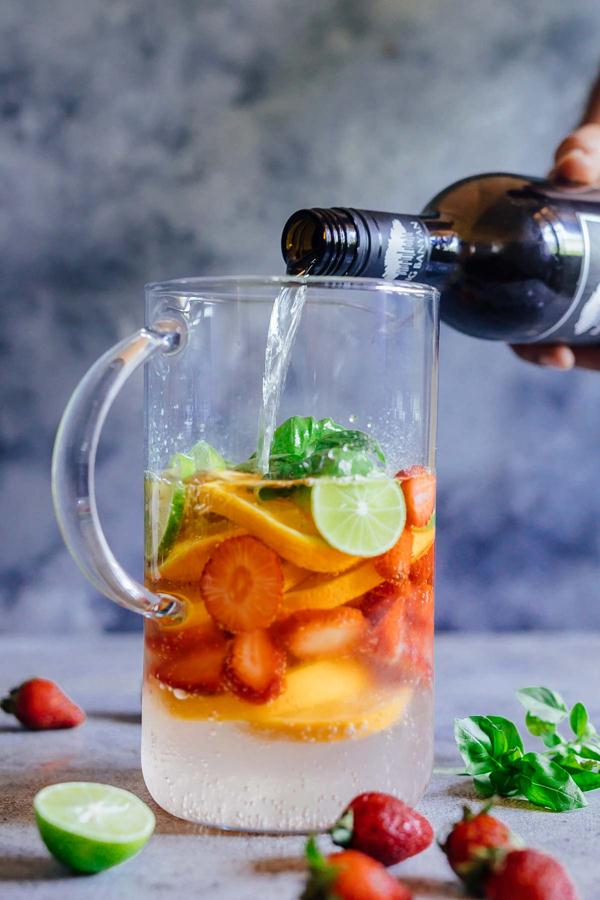 Most sangrias that you see are usually made with red wine which are amazing, but I think you'll want to give this white wine sangria a try. It's milder, has a light sweetness and tang, and is not as heavy as a red wine sangria. It's definitely more summer.
In my experience, Sangrias usually need a lot of fruits and some resting time. Make sure to mix this a couple of hours ahead to let the fruit soak in the wine and the flavors intensify. This can even be made and left to rest overnight if you are hosting a summer brunch.
I'm obviously a big fan of the guys over at Big Banyan wines and we are using their Chardonnay to make these white wine sangrias. The Chardonnay has aromas of pears and pineapple which work beautifully with the strawberries and oranges in the sangria. It's a balanced wine that has a mild butterscotch sweetness with a hint of acidity. We need both when we are making a Sangria. It's the perfect brunch wine because it pairs really well with goat cheese, asparagus salads and even fish.
Obviously, we are serving this Sangria with our ultimate cheese board because summers here! So, let's bring out the pitchers and celebrate the season.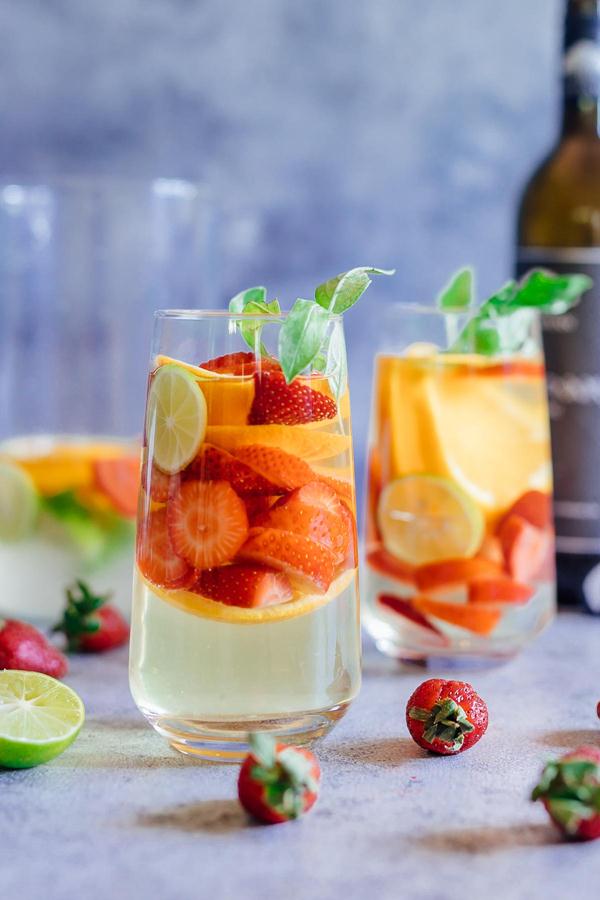 You'll need:
2 cups sliced Strawberries
1 Orange, sliced
1 cup loosely packed Basil
2 Lime, sliced
1 bottle Chardonnay (White Wine)
½ cup Tequila
3 cups Sparkling Water or Soda
How to make it:
Leave the peels on while slicing the oranges and lime. Add the fruits and basil to a pitcher.
Pour the tequila and wine over the fruits and give it a stir.
Refrigerate for at least 3-4 hours or preferably overnight. The taste will intensify and get better as it sits in the fridge.
When you are ready to serve, pour in the sparkling water or soda. Serve immediately.